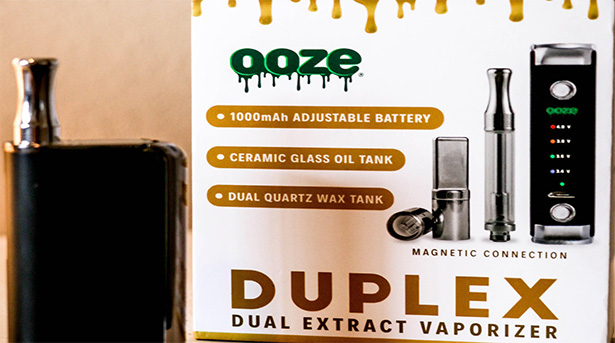 Ooze
www.OozeWholesale.com

Since OOZE was established two years ago in Oak Park, Michigan, growth and advancement has been the name of their 420 game. The team aimed high when they began manufacturing and distributing a wide range of smoking and vaping accessories for all facets of the marijuana industry. They made it their mission to cater to all consumers in the industry with their product variety and functionality. Less than a year after launching the brand, more than 20 products had oozed across the cannabis accessory market! With a strong background in retail, the team behind the start of OOZE was able to make its displays and store positioning in a way that would entice and stand out to customers, keeping OOZE products flying off the shelf.

One of their top selling products is called The Duplex, a dual functioning cartridge or concentrate vaporizer with 4 temperature settings and a 15 second preheat mode option. The Duplex is equipped with a magnetic connection, ceramic glass oil tank, dual quartz tank, and a 1000 mAh Adjustable Battery. This show stopper was even awarded Best Vaporizer by High Times at Cannabis Cup Michigan 2017! Among their other top sellers are The Magma, The Drought, and of course, additional batteries & attachments. The Magma is essentially a portable, all-in-one eNail smoking device. It comes with a 2900 mAh eNail battery, glass water bubbler, two coils, glass eNail connector, plus all the tools to keep your rig charged and even comes conveniently packed in its own carrying case! The Drought is a dry herb vaporizer with an adjustable temperature mode from 320°F up to 410°F. The 4inch vaporizer offers two hour battery life, continuous run time of 30 minutes, automatic shut off and five minute run times, and a clear digital screen. The Drought has been dubbed the best dry herb vaporizer on the market by its consumers for a reason!

Another favorable item on the OOZE menu is The Dab Depot Tray 3 in 1 Bundle. It includes a Dab Depot Silicone Tray, Metal Rolling Tray and Platinum Cured Dab Mat. The Dab Depot Silicone Tray can hold Vape Pens, Lighters, Nails, Papers, and Tools, all the while maintaining a reputation for being unbreakable, dishwasher safe, and heat resistant up to 600°F. The metal rolling tray consists of a heavy duty design built for durability while the Platinum Cured Mat features a non-stick flexible design that is easy to clean, heat resistant, and dishwasher safe. The Dab Depot Tray was created with the consumer in mind to solve every possible dab dilemma!
For being in business for only a couple years, OOZE is never short of exciting new ventures. Their official wholesale site launched just 2 months ago, and is now welcoming retailers to create an account and start oozing!
They are also thrilled to announce they have become the exclusive distributor for King Palm Wraps. OOZE has started a momentum that they aren't planning to slow down anytime soon, so you can expect their next expansion to include new products coming out in winter 2018, and even an apparel line featuring creative pieces on hats and t-shirts in addition to their OOZE brand logo apparel. If there's anything OOZE takes seriously, its customer service and maintaining a high customer satisfaction rate. They make it a point to treat their customers like family and provide only the best shopping experience. The expanding marijuana market has propelled OOZE and their mission to heights they always dreamed of thanks to the rapid increase of demand for products in this market as the industry takes new strides in social acceptance.

You can find OOZE at a number of industry shows and consumer events such as Champs, ASD, High Times Cannabis Cup, Hemp Fest, MJ Biz, and more. More products and information on all things OOZE can be found on their new wholesale website at oozewholesale.com