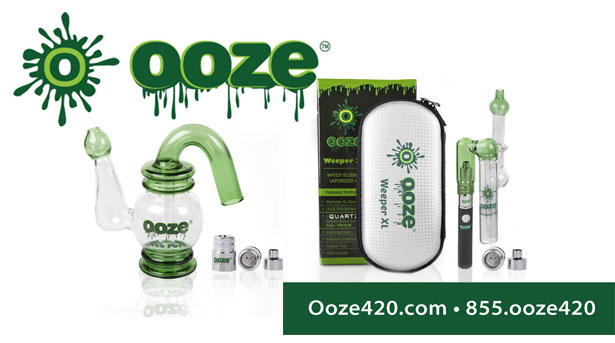 Ooze
Ooze was founded in 2015 in Oak Park, Michigan by Danny Hannawa, Steve Hannawa, Vince Ayar and Gjergj Sinishtaj. The owners are involved in all aspects of the company, with Danny being the one who does day to day operations, the developing of new products, and the contact person at tradeshows, providing customers with the attention they deserve.
Ooze started as a vaping company, but they also made it a point not to stay a "vaping company". Ooze wanted to be known as a brand in the overall cannabis industry, which is why they not only market vaporizers and water bubblers but also other accessories such as grinders, ashtrays, pipes, etc. They made sure they offer a variety of products and not just one product which is what most other vape companies do.
The company is always on the look out to either develop or rebrand unique items. Currently they offer an Ooze Banger Tray and an Ooze Grinder, which are not typical and feature more than one function. Ooze is currently developing a new one of a kind item, the Roll-N-Go Lighter. "The market is changing every day and we want to make sure we are keeping up with the latest and greatest products out there," states Vince Ayar. "We started in a 2,200 sq ft office and in a matter of 6 months moved to a 9,000 sq ft warehouse. Our staff started with just the owners and 1 employee. We now employ 7 full-time people and are looking to hire more".
Ooze has always followed the movement of the cannabis industry, and felt it was just a matter of time when the acceptance of marijuana would become a national movement. As the industry was gaining popularity, they noticed there were very few "brands" that pertain to marijuana. They also found there were very few "brands" that focus on retail. This offered a perfect opportunity for Ooze owners to bring their extensive sourcing, manufacturer connections and retail experience to the industry.
Ooze does everything from attractive package designs to price structures with the retailers in mind. Ooze believes their business success is dependent on the success of their retailers.
"We provide a line of quality, easy to use, and affordable vape pens for concentrates. We also carry non-vape accessories such as our unbreakable silicone ashtray which features slots for dab tools, vape pens, rolling papers, and a lighter. We have a grinder that has a rolling tray attached to it to make grinding and rolling more convenient for our customer. We offer the Ooze EZ Pipe which is a pipe with a slot for a lighter to use as an all in one way to smoke flower. Our upcoming item, which we are most excited about, will be on the market in January. It is our Ooze Roll-N-Go Lighter, which is convenient and discreet. It features a hidden compartment for a pre-rolled joint, which is smell proof and waterproof. We are always looking for new items and technology to implement with our products."
The Ooze team has extensive experience in all levels of business including sourcing, wholesale and retail. They know what retailers want and strive to accommodate them in every way they can. Ooze developed their products for high margins and a quick sale. They have over 90% reorder rate from their stores.
Ooze's target market is mostly customers who enjoy concentrates since most of their products are geared toward concentrates. They have expanded to just about anyone who smokes cannabis in any form and are looking to expand even further.
"We pride ourselves in offering our customers quality products at an affordable price. We stand behind everthing we sell. We offer a lifetime warranty on our batteries. We are so confident in our products that if a store has trouble selling something we will swap it out. Our customer service team is dedicated and always willing to help," Vince proudly states.
Ooze won an award at High Times Cannabis Cup for best vape. They sell their products to distributors, stores and online direct to consumer. Their distributors and stores can call 855.699.3420 or email orders to them at info@ooze420.com