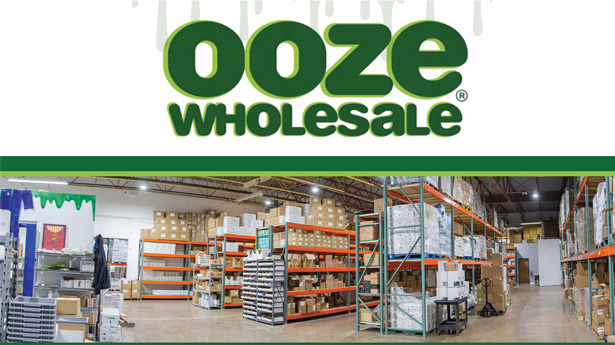 Ooze Wholesale
Every brand has a beginning, and the case was no different for Ooze. Starting from humble beginnings and a 2,000 sqft warehouse, Ooze began making waves in the vaporizer industry with new innovative products, which propelled them to the top of the vaporizer and accessories market.

The team at Ooze aimed high when they began manufacturing and distributing a wide range of smoking and vaping accessories for all facets of the marijuana industry. They made it their mission to cater to all consumers in the industry with their product variety and functionality. Less than a year after launching the brand, more than 20 products had oozed across the cannabis accessory market! With a strong background in retail, the team behind Ooze was able to make its store displays and positioning in a way that would entice and stand out to customers, insuring Ooze products would fly off the shelves.

During its growth stages, the team won several High Times awards and felt that it was time to migrate to larger warehouse space, where they built offices and brought on a full staff to assist with marketing, sales, shipping & receiving, and international business. As time went on, Ooze outgrew its warehouse and started acquiring additional space, expanding its operations into nearly a 20,000 sq ft faciliity. While creating new and improved Ooze products, the team saw the opportunity to get involved in the wholesale market, Re-branding its B2B portion of the business as "Ooze Wholesale" in order to cater to all the smoke shops, convenience stores, gas stations, and other storefront retailers.

While Ooze Wholesale continues to expand its collection of Ooze branded products, they have established partnerships around the world with vendors and other brands. In addition to being the exclusive distributor for King Palm and Loud Lock, they also distribute for RAW, Elements, High Hemp, OCB, Boveda, STR8 Cases, MJ Arsenal, Happy Kits, Pyptek, Truweigh, Newport Torches, RYOT, Blazer Torches, Smokus Focus, and many others.

If there's one thing that matters most to the Ooze crew, its customer service and maintaining a high customer satisfaction rate. They make it a point to treat their customers like family and provide only the best shopping experience possible. The expanding marijuana market has propelled Ooze Wholesale and their mission to heights they could only recently have dreamed of, thanks to new strides in social acceptance driving the rapid increase in demand for products in this market.
"We always knew Ooze was going to be something special. I can definitely say that we saw it turning into a monster, we just didn't think it would happen so quickly," said partner Vincent Ayar.
While the cannabis industry continues to grow and expand across the world, Ooze Wholesale plans on keeping up with consumer needs as well as the businesses they have grown to supply.
"We are going to keep pushing the way we have been. We are starting to focus a lot more on the non-vape categories and we will continue to bring out some unique and exciting products. The goal is to make sure every consumer has the option of purchasing some type of Ooze product," Ayar said.
Whether it's a premium vaporizer or a simple car ashtray, Ooze will be providing it.

You can find Ooze Wholesale at a number of industry shows and consumer events such as Champs, ASD, High Times Cannabis Cup, CannaCon, MJ Biz, and more. More products and information on all things Ooze Wholesale can be found on their new wholesale website at oozewholesale.com