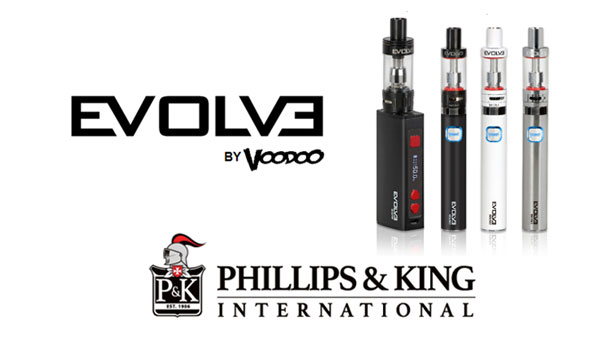 Phillips & King International Inc.
Phillips & King International Announces the Launch of Their Evolve Series Premium Hardware Line
Phillips and King International, manufacturer and distributor of premium e-liquids, mods and accessories, announces they are launching the all new EVOLVE series premium hardware line. The Evolution has landed.

EVOLVE, by Voodoo, consists of two new starter kits, a 50 watt box mod and a 50 watt Mini kit. Both kits feature a 0.2ohm minimum resistance and fully regulated power in a small, compact form factor. These new kits are feature packed, including beautiful sub ohm tank systems, gold plated coil contacts, cyclops-style dual airflow control and insanely great battery life.

The Mini kit is the first of its kind, featuring a "pen" style design in an ultra-compact 18mm diameter, 50 watt 1500mah battery and two 0.5ohm vertical organic cotton coils and a 2ml glass tank. This model is available in white, black and silver.

The full-size 50 watt mod offers an OLED screen for wattage adjustment, 2600mah built in LG high-drain battery, two 0.5ohm vertical organic cotton coils and a 4ml 22mm tank system. This kit is available in black with red accents.
"We have worked tirelessly to create a compelling product line that will reach a wide range of customers, and appeal to experienced vapors at the same time," said Steve Davidson, Vapor Brands Marketing Specialist, Phillips and King Int.
The EVOLVE series products incorporate market proven technologies, feature rich specs and beautiful packaging and design. These kits are accompanied by a full offering of separate tanks and coil packs, in addition they have a wide range of cross compatibility with other products on the market using a coil technology that fits in a large variety of other tank systems and mods.

About Phillips & King International
Phillips & King International is the leading distributor of specialty vapor, tobacco, and alternative smoking products in the U.S. Since 1906, the company has built a strong reputation by focusing on independent brick-and-mortar shops. Our highly experienced sales staff services thousands of shops in all 50 states, US Virgin Islands, Guam, Puerto Rico and globally to US military bases. The company distributes 21,000 SKUs warehoused in a 150,000 sq. ft. semi-automated facility. In addition, they have a portfolio of proprietary brands including American Craft E-Liquid, Spellbound Premium E-Liquid, Voodoo Vape and Greenhouse Dry Herb Vapor.

For information or to order EVOLVE please email salesinfo@pkcigar.com or visit voodoovape.com. For more information Phillips & King please visit phillipsandking.com