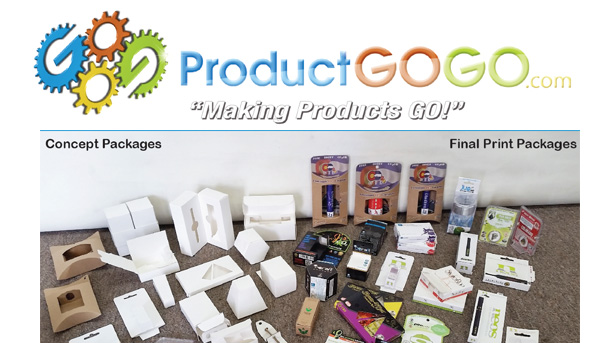 Product GOGO
Product GOGO has placed itself on the cutting-edge of the budding cannabis industry, and established a reputation as a leading source for product, brand, and packaging development.

Denver-based Product GOGO was founded in 2011 under the name B.St.Design. As the company grew, the branding and marketing morphed into Product GOGO, which was established in 2013. There are currently four like-minded designers that make the company GO!

Product GOGO offers full concept-to-shelf service, and has the kind of rapid turnaround that is demanded in this industry. As the company's founder and owner Blake St.Clair notes, "We have our hands in the concept, design, labeling, packaging, production, sourcing, importation, complacency, promotion and then some. We offer everything except the actual growing or selling of the plant."

Executives also have a considerable amount of expertise when it comes to staying in and keeping up with compliance across the US.
"We have, in the past five years, found ourselves as a King "Pen" in the cannabis packaging business by providing innovative packaging designs for several of the largest vaporizer pen companies in the Colorado and nationwide cannabis industries," says St.Clair. "We have been exclusive with, or partners in, designs for Open- Vape, Neos, Sweet CO2 Oil, Dr. J's, Spherex, Try The CBD, Nuvue, and several confidential new, small & large companies alike."
Product GOGO's child-resistant containers, custom products and custom packaging lead the way in generating revenue. Its design team approaches all new ideas from a concept-to-shelf mentality, keeping in mind that a successful product must be validated through concept, design, prototype, and marketing. Its self-described mission is to provide excellent product design and packaging equal to any other industry.

"The innovative Child Resistant Packages designed by Product GoGo are even getting the attention of the pharmaceutical companies", Jeremiah Buck of Denver Based Tread Global Inc, an ASTM child resistant testing laboratory who has safety tested multiple designs by Product GoGo, states, "these new patented designs are more effective than the traditional pill bottles in everyone's medicine cabinet. Product GoGo is not only leading child safety of the Cannabis Industry but these effective designs will be rolling into general dispensing for pharmaceutical drugs in the near future. "We feel that building long-term relationships by offering multifaceted services is key to growing our business," Derek Benefiel, lead designer says. "We also extend a large network of like-minded vendors, production facilities, individuals, investors, legal and intellectual property to our clients."

In 2015, St.Clair recalls, "We launched several new and innovative consumer products as well as cannabis products." His firm also produced more than one million packages, more than one million labels for products, and hundreds of thousands of child-resistant containers, custom products, displays and other items through a combination of local, domestic, and overseas manufacturing. The company's most recent product introduction is ShatterRap, which is pre-folded and pre-cut parchment paper with custombranding options. "However," says St.Clair, "our product that is getting the most traction is CR-Pak, which is the Lexus of the child-resistant tubes. It provides a quality keepsake versus its onetime use and toss competitors. We also have a full line of boxes, candy containers, chocolate containers, exit bags, spray bottles and more that are already out, or currently going through manufacturing or testing."

Product GOGO insists that the company will continue to strive to bring new clients aboard, and to provide more competitive packaging, marketing and branding in the years to come. The new states and large players coming into the fold "are just now starting to get into the game," St.Clair points out. "Also, we are seeing our home market in Colorado becoming saturated, and are getting tons more contacts from new states and others who are now coming around to custom packaging and designs by choice or by new state laws."

With the industry and those in it becoming more well-defined, Product GOGO finds itself in "a unique position to grow and change with the industry and keep providing the services that the rest of the mainstream world takes for granted," St.Clair notes. "In the beginning, trying to get vendors to work with cannabis packaging and products was difficult," he reveals. "Now there is a war for the very same contracts. It's great to see all of our competitors doing the same thing, which keeps us all on our toes when it comes to discovering what the next thing to change the industry will be. Quite frankly, I'm not sure myself what that will be right now."

The economy has also played a role in the company's trajectory. "We have not noticed a decrease in growth since the seed was planted in late 2009," says St.Clair, "when Colorado passed medical laws and recreational in the years following. We have only increased -- month by month and year by year." "Seeing the industry grow and change is part of the enjoyment of working in the cannabis industry. However, seeing and pointing out faults is crucial to helping make this a sustainable, profitable, and green industry for many decades to come."

St.Clair says that his personal philosophy of business has always been to provide superior, innovative and outside-the-box design for products and packaging. The company he formed reflects his personality: modern, driven, dedicated, innovative and ambitious.

It's a combination of qualities that is working well for Product GOGO, and will continue to grow forever.