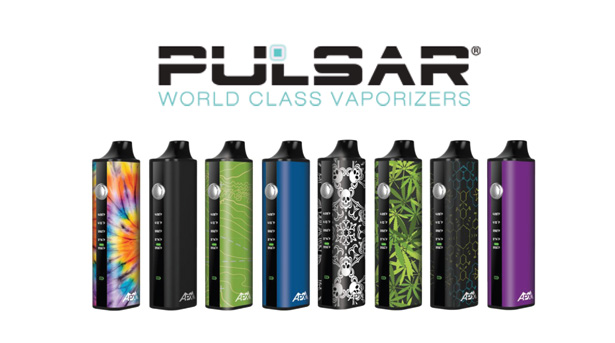 Pulsar Vaporizers
Pulsar Products Make it BIG
WorldClass Glass for WorldClass Grass

Pulsar Vaporizers is bringing the company's finest to the Buyer's Industry Guide (BIG) Show in Denver, April 26 & 27, and will proudly promote their premier product line at booth W9. "When we talk about bringing the pride, that's not just worldclass products," says Pulsar sales rep Maximilliano Kuper. "It's also an understanding of the industry that sets our pros apart."

Pulsar experts like Kuper know every aspect of the company's product line because they are an integral part of the design process too. Kuper himself even helped name the company's latest vaporizer, the APX, which has similar stats to other portable vaporizers, until you compare price.
"The APX smashes the vaporizer price ceiling," he says. "Why pay hundreds of dollars when you can get similar performance for about $60?" Kuper was also the brainchild behind the exclusive collaboration with Oakland street artist Ras Terms who created a custom, limited edition illustration for the APX. It's just one of nine designs in the popular product line.
The APX is just one of many vaporizers Pulsar offers. There is also the Buzz, the Blaze, the HandE Nail, the Ninja V4, the Sirius, the Slim, the Lux D, the Twist, the Vibe, the triedandtrue Pulsar 7, and numerous rechargeable and disposable pens. Whether it's dry herb, concentrates or oils, Pulsar has a proper product.

And, despite the company name, Pulsar has a lot more going on than vapes. Also on display at the BIG Show will be a wide range of worldclass borosilicate glass of all shapes and sizes. Everything from handheld, workedglass pipes to industrial strength water vessels sporting many amenities will go to the show.

To meet a wide range of customer needs, Pulsar has numerous accessories including a water pipe light show, the Prism, to show off beautiful glass. Bringing an impressive array and impressive people is one way Pulsar meets multiple needs.

"The BIG Show is a great way for us to meet our customers face to face," says Kuper. "It's a great way to connect and show off people as well as product. It's also a great time to make deals."