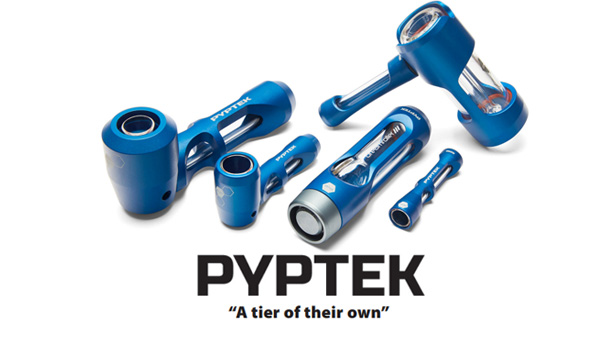 Pyptek
"A tier of their own"

PYPTEK is an American company founded in the heart of Colorado. The vision began back in 2012, when Matt Greenberg and James Humes realized there was a need in the market for a high-quality pipe that was also durable enough to be a trusted travel companion, particularly for those who are active outdoors. With a team comprised of engineers and decades of product development and manufacturing expertise at their disposal, the PYPTEK brand was destined to fulfill a gap in top-tier highend pipe technology. Rooted in manufacturing, the brand is dedicated to the design, development, and manufacturing of the next generation of pipes for the modern day. Each piece is individually machined from aircraft grade aluminum and all glass is custom made by actual humans. From start to finish, PYPTEK products are proudly made in the USA.

The function of PYPTEK pipes combine luxury and longevity with plug-and-play glass components that provide an unparalleled smoking experience while being able to break down into separate pieces so it's easy to keep clean and fresh for its next use. The PYPTEK line currently consists of 5 different models: the Nano (a small chillum style), the Pocket (a medium size pipe), the Titan (the big ripper), the Dreamroller (a first of its kind one-handed steamroller), and the Bubbler (a percolating water pipe). PYPTEK's top seller, the Pocket, is a glass pipe with a high-quality aluminum exoskeleton fashioned into a timeless design. All the pipes were designed to be disassembled easily for cleaning or glass part replacement, if necessary. PYPTEK didn't just stop at creating a pipe for herb. They decided to provide added versatility to the growing list of features in the design with oil kit attachments (available for the Pocket and Titan models) that convert those pipes into first-class concentrate rigs. The kits include either a quartz bucket or high-grade titanium nail and custom glass components to allow for dabs on the go!

You won't believe the extensive process that each piece goes through to create this one-of-a-kind pipe before reaching the end consumer. Machined aluminum parts require a highly different and much more complex process from the traditional, more common metal casting, and results in a significantly higher quality, more luxurious end product. Designed to deliver the ultimate smoking experience, PYPTEK products are individually made, one at a time, to achieve unmatched quality that maximizes the all-glass smoking experience. The manufacturing process cuts zero corners to elegantly bridge glass and machined aluminum together, not just for durability, but also to refine the concept of what a pipe can be, utilizing state of the art technology. PYPTEK products are unrivaled in the realm of materials, engineering, and design for their category, solving problems of traditional pipes in every aspect, while elevating the overall aesthetic and feel to suit a modern, high-end style that demands superior quality.

The newest additions to the PYPTEK family are the Dreamroller and the Bubbler. The Dreamroller serves as an all glass, onehanded steamroller with a spring-loaded push-button carb. This first of its kind product was created as a unique approach to level up the classic steamroller design with a comfortable grip. The length and diameter of the chamber itself provides space for the smoke to expand, so the hits pack-a-punch while maintaining a cool and smooth experience. The carb-function is outside of the air pathway so it's never going to get clogged or compromised. The Dreamroller was designed to auto-center itself when set down, keeping potential spills to a minimum. The ceramic bake-on-label ensures cleaning doesn't tarnish the aesthetic of this piece.

Staying true to PYPTEK's vision of all glass products and their signature aluminum exoskeleton design, the PYPTEK Bubbler recently joined the full collection. With large viewing windows to display rapid bubble action, you can easily judge the smoke levels. A big carb lends effortless control of the air/smoke flow and an insert with Purr Glass's showered percolator means more bubbles and a smoother hit. The Bubbler features style, durability, and portability while boasting the largest bowl of any PYPTEK pieces. It has a platinum baked on label that speaks to the luxury it embodies. It's designed with a dual stance so it can stand up on its base or it can be tipped over at an angle.

Longevity, durability, and quality were all major considerations that went into designing their products and continue to serve as the foundation for all of their future developments. Keep an eye out for upcoming innovations coming down the PYP-line soon, such as the PYPTEK all-in-one grinder that will double as a storage jar. You can see PYPTEK's entire product line at upcoming Champs Trade Shows throughout 2023 and at TPE in Las Vegas this February. To fully grasp the process behind what it takes to create each cutting-edge PYPTEK product, visit their website at PYPTEK.com where you can watch a video that reveals exactly how they are made.