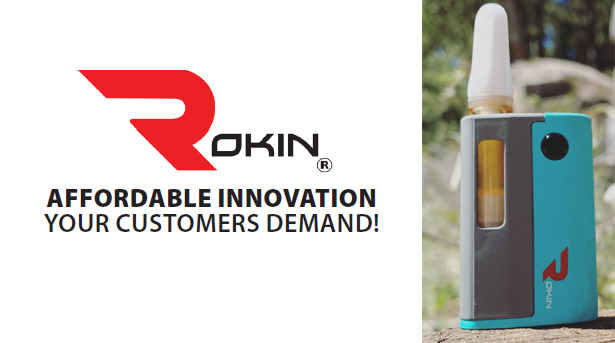 Rokin Vapes
AFFORDABLE INNOVATION YOUR CUSTOMERS DEMAND!

No stranger to meeting the demands of customers that prize quality, affordability and precision, Rokin's management team brings expert customer service and cutting- edge innovation to the vape market in equal measure. As the successful entrepreneurs behind the Bauer Optical Retail chain, CEO Daryl Bauer and COO Larry Bauer now leverage their decades of experience of retail success to bring some of the world's best vapes to consumers and distributors alike.

It started in 2016 when, seeing that market trends were bringing meaningful headwinds to brick and mortar businesses across a host of markets, Vape Visionary, Daryl Bauer, suggested that the family look to the burgeoning cannabis sector for new opportunities. With a deep knowledge of cannabis culture, Bauer knew his team had the entrepreneurial skills and business savvy to put the very best in vapes into the hands of consumers. In 2016, the family business, Rokin Vapes was launched.

THE DIFFERENCE MAKER
What Rokin also had: Daryl's brother, Alex Bauer, a genuine nuclear engineer, who continues to design the company's series of leading-edge cannabis oil and concentrate consumption products. With Daryl's unique knowledge of the culture of cannabis, his father's business savvy and Alex's unprecedented product designs (and a team of dedicated sales, marketing and support professionals) Rokin Vapes hit the ground running. The result was a new company that understood its customers demand for affordable, portable, high quality vaping products. Today, Rokin Vapes is extraordinarily successful, and works hard to bring its expanding product line to their customers through a network of retailers.
"When it comes to quality products, affordable pricing and top-shelf customer service for vape shops, our deep background in retail gives us a huge advantage." -Larry Bauer, COO, Rokin Vapes
ROKIN BRINGS CONSUMERS THE MOST ADVANCED
VAPING PRODUCTS FOR OIL AND CONCENTRATES
With nuclear engineer Alex Bauer at the helm of product development, Rokin maintains its position at the forefront of vaping technology. The Rokin Dial is not only the newest and most advanced addition to the Rokin oil vaporizer line, it's the most advanced portable vape anywhere. The Dial has the most voltage settings of any portable vaporizer on the market with a shocking 21 different settings! Each setting works to give your customers complete control over their vaping experience. Furthermore, the Dial's portable size let consumers take it anywhere.
"Our technological edge means consumers get the custom vaping experience they want at a price that doesn't break the bank," CEO Daryl Bauer, Rokin Vapes. "Big clouds, tiny hits or anything in between—it's all possible on one device with Rokin's new Dial."
The Dial features auto draw technology, which eliminates the need for an on/off button. This means customers can vape without the worry of turning the vape on/off and draining the battery. Consumers just screw the cartridge into the advanced 510 threaded connection to form a secure connection and inhale to activate the Dial. The secure cartridge connection technology is unlike any other vape and ensures cartridges make a solid connection every time. The Dial also includes short circuit protection for customer safety. The Dial comes in Matte Black, Titanium and Light Blue.

Rokin also offers consumers its discreet Mini Tank. This Rokin portable oil vaporizer is small enough for consumers to take anywhere. At less than 2" high and 1" wide, it is the smallest oil 510 vape battery on the market and fits in the palm of your hand! The spring loaded 510 thread connection ensures a secure connection with any cartridge on the market, including Rokin's EASY FILL oil cartridge. The Mini Tank comes in Matte Black as well as Titanium, Light Blue, Bright Purple, and Bright Green.

Rokin product offerings don't stop there. Rokin's Cyclone is the latest and most advanced concentrate vaporizer on the market The Cyclone features a patent-pending waterless cooling chamber built into the atomizer to discreetly deliver smooth, cool hits without the use of a bubbler attachment. The Cyclone vape provides accessories for all types of users, including both dual quartz and ceramic plate leak resistant atomizers. The Cyclone also comes with four temperature settings and Rokin's new 14 second active mode (2 clicks) for a continuous vaping experience.

LAB TESTED/USER APPROVED
Rokin's technological prowess and customer service ethos means they never skimp on product safety. All of Rokin's products are meticulously tested to ensure they meet rigorous quality standards before any production takes place. After initial testing, Rokin's products are certified to the latest FCC and CE standards. But Rokin's commitment to quality means the firm goes above and beyond. The firm mandates additional certification, making certain all its vaping products conform to the latest RoHS standard, which restricts the use of 6 hazardous materials commonly found in electronic products. Finally, Rokin uses SGS to test a sample lot of its product right at the production facility using a comprehensive inspection checklist. This means your customers can vape with confidence.

SERVICE SECOND TO NONE
Reflecting Rokin's deep background in the world of retail, they have a sales team who strictly represents the Rokin brand. These brand experts are there to service your account. At Rokin, distributors never talk to a third party. They deal with employees trained to assist you in your wholesale buys. The Rokin sales team knows the value and quality of the Rokin brand and can help you to not only buy their products but help you sell them to your customers. One-on-one service in the service of leading-edge technology. It's Rokin's stock-in-trade!