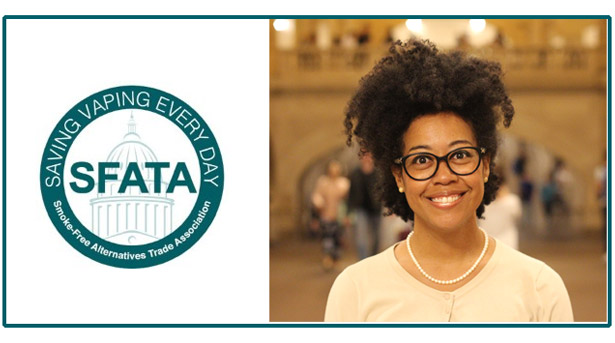 Deanna Clark-Esposito Welcomed to 2019 SFATA Board of Directors
The Smoke-Free Alternatives Trade Association (SFATA) is pleased to announce the results of its recent elections. The nominees were selected by our nominations committee from a field of candidates presented by our members during the 2018 election cycle, which ran from December 18, 2018 through January 16th, 2019.

Robert Arnold, Dave Morris, and Martin Pazzani will re-join seated directors, Lonnie Bozeman, Deanna Esposito-Clark, April Meyers, and Mike Runshe as a result of this process. The returning Directors were seated on January 17, 2019.

Now seated, the Board will begin its work, planning 2019 strategy alongside Executive Director, Mark Anton. It must also set the association's annual budget and plans to do so during a two-day meeting being held later this month.

Deanna Clark-Esposito (Director)

Deanna Clark-Esposito is the Managing Attorney of the New York City based Clark-Esposito Law Firm, P.C., and provides legal representation to domestic and foreign companies with matters involving US federal laws and agencies, including the US Food and Drug Administration (FDA) on vape and tobacco products, and the US Drug Enforcement Administration (DEA) on cannabis.

She also handles matters concerning the import, export, transportation, and fashion industries. In 2018, she presented on "Vape & CBD Legalities: A Primer for Retailers, Manufacturers and Importers" at Champs Trade Shows in Las Vegas and taught a course entitled "Legal Compliance for the Vape & E-Cigarette Industry" for Lawline.com.

Deanna was also invited to speak as a panelist at Yale University's first ever "Business of Legal Cannabis" conference. In 2017, she presented at the "Vapor Fair Meets Hookah Fair" trade show, providing an overview of current obligations, deadlines, and what is on the horizon for the vape industry in terms of FDA regulations and compliance. She was also a panelist at the Women Grow NYC event entitled, "Know the Law: The Legal Side of a Cannabis Business."

Deanna writes legal editorial content for the vape industry's "B2B Wholesaler" and the cannabis industry's "CannaBiz Wholesaler" magazines. More about her and the firm may be found at https://www.clarkespositolaw.com/ and on Twitter @tradetogrow. Deanna is serving a two-year term that ends on December 31, 2020.

Good luck to the new board, and, as always, we thank our members for your participation in this important process — and for being a vital part of our community.