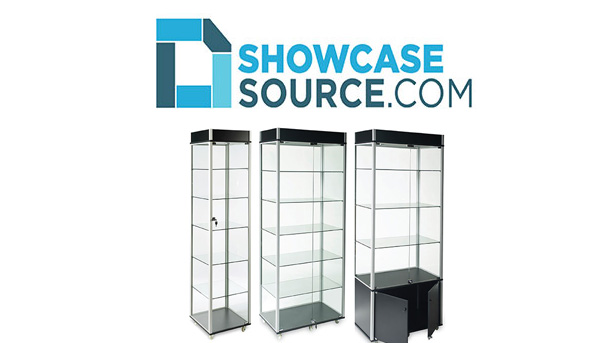 ShowcaseSource.com
ShowcaseSource.com in Columbus, OH, has achieved success by following a very simple formula: it succeeds when its customers succeed.

The company was founded by Les Bresge, former CEO of one of the largest lighting manufacturers in Canada and his partner Harold Mandel, a former senior vice president of Sears. They were joined by Mike Rand, who brought a strong marketing background to the organization . All remain actively involved with the organization.

Parent company Can-Bramar Ltd. was launched in 1995 in Toronto, Canada, and by 2000 expanded to the United States with the online presence Showcasesource.com. The company is also active in Latin America.
"The original vision for our company was to produce and distribute modular display systems that are affordable for the independent retailer," says General Manager Stacy Ewert. "Our company has worked hand in hand with clients to provide them with the fixtures that they are looking for to grow their business."
Many of ShowcaseSource's new product offerings have been a result of feedback and requests from its customers. "We continually are looking forward and creating products that will enhance our clients' current display options," Ewert says. "Since our displays are modular, our clients have many options available to them at affordable prices. We are focused at expanding our customer base and dealer network."

ShowcaseSource's target market is what Ewert refers to as the Vape and Smoke industry. We have had a huge positive response from this industry, and we are working toward helping this industry grow and be successful by providing affordable displays that are unique." The store display industry as a whole, she adds, is continually changing "and we pride ourselves in staying ahead of the industry. We focus on independent retailers and small/medium chains."

Recently, we have developed two new items specifically with the Vape and Smoke industry in mind," Ewert says. "We are very excited to present these items at the ASD Marketplace show. Although we specialize in display cases, we also offer metal shelving, accessories and other retail store fixtures and can provide a one-stop shop for our clients."

PRODUCTS AND SERVICE
ShowcaseSource.com serves clients throughout North America and Latin America and specializes in showcases and other retail display units. Its products are a sure fit for all types of stores. The company provides personal, reliable and timely service as well as quality products. There are several product lines that are offered to their clients. The CB line features a curved aluminum profile. The profile which is anodized and polished provides for a stylish and modern finish. It is extremely durable and sturdy to give you many years of product use. It is also resistant to corrosion and water damage. ShowcaseSource has recently introduced the CB line with a black profile (pictured above) which has been well received by the Vape and Smoke industry. All of the displays are structured on glass, aluminum and MDF. Additionally, the large panels of glass on its Vision line of showcases are tempered, as are the large glass panels on its CB line wall, tower, and trophy showcases. The Vision line features casters on all their displays which provides flexibility for the retailer to easily move the units as their floor plan and layout changes. Finally, they offer the Essentials line which was designed for the novice retailer that would like to provide a uniform look at the economical price. Since all of the units are modular, these units can be matched up with items from the other lines to provide a great first impression while staying within an operating budget.

DISTINGUISHED IN THE MARKETPLACE
ShowcaseSource is a longtime member of SHOP!, a global non-profit trade association dedicated to enhancing retail environments and experiences. As Ewert explains, "We distinguish ourselves in the marketplace because we provide a quality product at a reasonable price with excellent customer service. We are building relationships with our clients and provide a 100% satisfaction guarantee on all of our products. Additionally, we produce some models that are not available from our competitors. Also, we have partnered with transportation companies to provide cost effective shipping options for our clients."

Independent retailers and dealers can purchase via the internet or over the phone. ShowcaseSource's management prides itself on working hand in hand with clients to provide partnerships and create solutions that will assist in the success of their businesses.

"We are establishing ourselves at the go-to people for the Vape and Smoke, industry," Ewert says. "We are building partnerships with individual retailers and small to medium chains. We have distributors and dealers throughout the United States, Canada and Latin America to provide products readily to our clients."

Its main distribution facility is in Columbus, OH. Additionally, it provides direct-ship options from the production facility for clients to purchase in larger quantities when needed.

The bottom line is that the company exists to help its clients succeed. "ShowcaseSource.com is a business that is dedicated to our clients," Ewert concludes. "We strive to deliver more than is expected. We are only successful if our clients are successful."