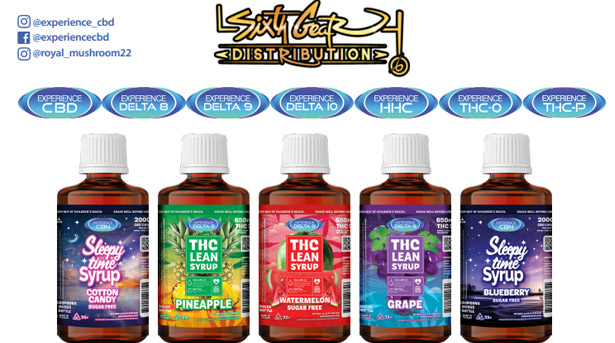 Sixth Gear Distribution
Sixth Gear Distribution was established in 2016 by David Gross in Myrtle Beach, SC. Sixth Gear Distribution brings 3 major brands to market: Experience CBD, Royal Mushroom, and Kratom Pharmacy.

The company was developed to serve the market as a one-stop shop for quality CBD, kratom, and mushroom products, but it all started with CBD. David, CEO of Sixth Gear Distribution, previously owned a vape and smoke retail store when his friend introduced him to CBD, suggesting that it would be beneficial to both his personal life and his business. Once David tried it for himself, he was convinced to carry CBD products in his retail shop. This led him to develop his own in-house CBD products, which became the "Experience CBD" brand. Experience CBD first launched by introducing a line of CBD gummies for retail. Now, 7 years later, Experience CBD offers wholesale and retail customers hundreds of CBD products as well as Delta-8, HHC, THC-O, and Delta-9 in product lines including tinctures, gummies, topicals, syrups, pet products, and more.

In an industry that has seen many CBD brands emerge and dissolve in a short period of time, David is very proud to have built a CBD brand that has stood the test of time. He attributes the brand's success to maintaining a strong focus on the product quality and top-notch customer service. He chooses to not worry about what other brands are doing, but rather to aim his attention on the longevity of his own brand and his relationship with customers. With many brands jumping in and out of trends that may not last, David has positioned his brand to meet the customer's needs and intends to maintain a market presence over time simply by providing excellent quality and listening to customer feedback to develop new products and carry the ones that are in the highest demand. His team puts in a lot of effort in R&D, testing products, and taking the time necessary to get feedback and ensure that new products are perfect before bringing them to market.

Experience CBD's current best-selling product is their Delta-9 THC Lean Syrup, which is a unique concoction of highconcentration Delta 9 syrup, with 650mg of hemp-derived cannabinoids. The syrup is available in 4 tasty flavors: Cherry, Grape, Pineapple, and Blue Raspberry. This product is best known for offering pure relaxation and mood-lifting benefits that provide a euphoric yet laid-back effect. The THC Lean Syrup retails for $39.99. In response to customer requests, they just launched 2 brand new sugar-free flavors: Watermelon, and Mango. The same great formulation, now without sugar. Another great product they just released is Sleepy Time Syrup, also sugar free, and is infused with 2000mg of nano amplified pure isolate cannabinoids including CBN, CBG, and CBD. The Sleepy Time Syrup is available in 3 popular flavors: Strawberry, Cotton Candy, and Blueberry, and retails for $29.99. The branding and packaging of Experience CBD was designed to convey superior quality and wellness of life. Everything is done with the end customer in mind, with honest intentions to add value to ones daily life.

Sixth Gear Distribution is proud to present their newest brand "Royal Mushroom". Royal Mushroom offers a variety of healthful mushroom supplements and provides valuable mushroom 101 education about the benefits of mushroom supplementation that customers can read on their blog. The Royal Mushroom product line includes gummies and tinctures that are exceptionally great for focus, energy, relaxing, sleep, and brain health. Royal Mushroom carries a fantastic array of mushroom varieties, including Chaga, Lion's Mane, Turkey Tail, Reishi, Cordyceps, and Maitake, and even more rare mushrooms, such as the Amanita Muscaria mushroom, available in a tincture. They are working diligently to develop more mushroom products such as mushroom chocolate, which will launch this year. In addition, Kratom Pharmacy offers 14 different kratom strains in powder and capsules, with flexible wholesale purchasing options to suit the needs of every customer (from 30g to a kilo, or from 30 capsules to 1,500 capsules.).

Sixth Gear Distribution is dedicated to frequently updating their product lines to meet the market demands, which is why after 7 years in business, they offer hundreds of top-selling products. They are proud to guarantee all of their products for customers. This means that if any issues arise (even with shipping problems), their customer service team will ensure that they make it right. All of their new customers become repeat customers thanks to their consistent maintenance of customer satisfaction. Sixth Gear Distribution aims to launch 20 new products each year, so be on the lookout for their hottest new products that will be made available for wholesale purchase in 2023. You can expect to see Experience CBD at upcoming Trade Shows next year, including Champs, TPE, and ASD. You can contact sales@sixthgd.com for a digital wholesale catalog that includes all of Sixth Gear Distribution's wholesale brands and products. You can also contact them by phone at 843-213-1319. For more information about their brands, you can visit their websites directly at experiencecbd.com or Royal-mushroom.com.