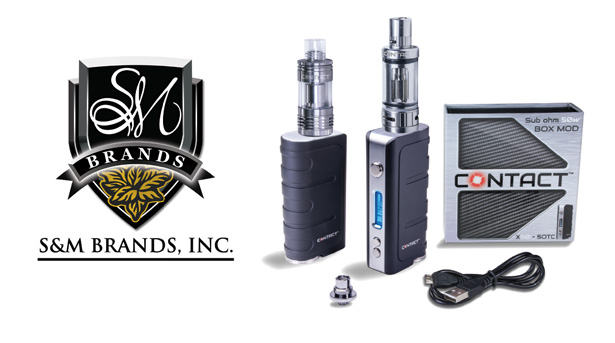 S&M Brands, Inc.
Five Generations Of Innovation Behind the CONTACT™ Vape Brand Line
Family-owned and operated S&M Brands Inc. in Keysville, VA, looks to the future as a continuation of a past that has set it apart from competitors in a vibrant market.

The privately-owned company was founded in 1993 by Mac and Steven Bailey. Among the key factors that distinguish S&M Brands from other manufacturers are its customer service and dedication to producing premium products, popularly priced, that retailers and wholesalers trust.

While the company chooses not to divulge its annual revenue, a company's financial stability is key to its success in the industry and President Steven Bailey confides that it exceeds $50 million. Its customers operate in the wholesale and retail channels.

The S&M Brands' product lines are supported by five generations of manufacturing expertise that provides a foundation of innovation, longevity and adaptability. The 22-year-old company is still family owned today, has a workforce of 125, and remains ready to meet the changing business environment. From traditional tobacco products to today's most popular electronic vapor devices, S&M Brands offers a vertically integrated and complete line of products from mods, vaporizers, e-liquids, electronic cigarettes, accessories and more for the enjoyment of today's vape enthusiasts.

One of their signature vape brand lines, CONTACT, recently debuted in Vegas. The CONTACT brand is designed by vapers for vapers, for those looking for a brand that can contribute to their vaping experience that reflects their vaping personality and lifestyle.

A History of Innovation
Innovation continues to be a strong suit, with new products like CONTACT e-liquid, box mod, and tanks all set to be introduced to the mass market this year.
"The CONTACT exclusive aluminum bottle is the only e-liquid container that is shatter proof, sunlight proof, and pre-steeped, providing a protected environment for our coveted ultra-premium complex e-liquids," Bailey explains.
The exclusive aluminum e-liquid bottles set this product apart from the crowds of e-liquid options on the market. CONTACT e-liquids will be available in six flavors, two bottle sizes – 15ml and 30ml, and three strengths – 0.0%, 0.3%, and 0.6% nicotine levels.

The Vessel SOTF is a powerful sub-ohm tank that can be conveniently filled from the top, preventing messes and making onthe- go filling easier than ever. The tank uses replaceable sub-ohm atomizers built at 0.5ohms that are wicked with pure organic Japanese cotton. The hardware is comprised of stainless steel and a glass tank capable of holding an impressive 3.5ml of liquid. The Vessel SOTF has an adjustable airflow design. Using the rings located at the bottom of the tank, users can adjust the amount of air moving through their device to create bigger clouds and better taste.

The CONTACT X50-SOTC boasts up to 50 watts of power and a compatibility with atomizers as low as .1ohms. The X50-SOTC brings the versatility of advanced temperature controls to the traditional 50 watt box mod. Its streamlined design utilizes a removable 2600mAh battery (18650) that can be charged through the device's convenient micro-USB port. The device uses a springloaded connector to ensure a secure connection with most 510 tanks. And the X50-SOTC's intelligent OLED screen keeps the device's operations simple and easy by displaying the voltage, wattage, joules, temperature and remaining battery life at all times. The X50-SOTC is, according to Bailey, "one of the most versatile and innovative box mods available."

Dedicated To Producing Premium Products And Customer Satisfaction
Responding quickly to the needs of customers is a key to success, says Bailey. "We make quick decisions based on our customers' needs." Indeed, Bailey's personal philosophy of business is that "customer service is paramount to our success." In his company, he adds, "There are no politics. Everyone strives to meet the needs of our internal and external customers."

In Bailey's view, FDA regulation of the vapor industry will have the biggest impact on the vapor business. "It remains to be seen how it will affect the industry going forward." The economy, he suggests, will not have a significant impact on his business. However, the presidential election will "because the vapor industry will struggle to comply with the new regulations. The election may affect how these regulations are adhered to."

Not surprisingly, management is also politically active in federal, state and local governments, the company says.
"We employ various strategies to make our voice and those of our customers known to all interested parties. We support fair-minded representatives that propose common sense solutions to today's complex issues. Our lobbying efforts generally coincide with fair business practices and we generally support legislation and regulation that include these principles."
The company's goal for the remainder of 2016 is the same one it has always had: to "continue to provide adult consumers with products they want to buy."