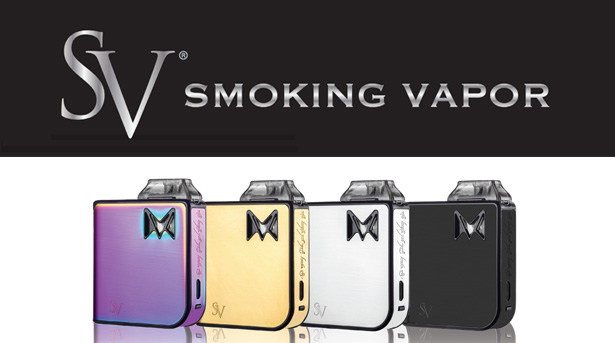 Smoking Vapor
The Smoking Vapor Company was born from a love story between vapor products and a team of dedicated individuals who were determined to offer only the best, and most unique vaping products to their consumers. Smoking Vapor was founded in 2008 by Amir Hakak.

What started as a retail kiosk business that managed to live through the FDA shut-down in 2009, became a manufacturing phenomenon in the vape world with the Mi-One vape in 2016!

Let's rewind; After the historic 2010 lawsuit that overturned the FDA's blockade on e-cigs, Smoking Vapor was back in the game. Amir wanted a better performing product and started designing and manufacturing cig-a-like products instead of just outsourcing from suppliers. Amir spent 2010-2012 attempting to perfect the early vape technology. Then, in 2013, after a chance meeting with Geoff Habicht that led to a powerful partnership, Geoff bought half of the business and joined Amir, bringing in his own background of working as an executive in Fortune 500. Together, Amir and Geoff rebranded and restructured the business in 2013.
Geoff expressed, "As we've grown and changed with the industry, we've had to stay ahead of both technology and regulations to focus on building a company that can last, because we've been through the early turmoil of the industry."
MI-ONE
SV's First really big international product success was the Mi-One that launched in 2016 with a goal to deliver not only the ideal flavor and function expected from their proprietary technology, but to also serve the huge underrated market for female vapers. They sourced many materials from all over the world to blend fashion into the function of the product to create a user experience that improves the standards of lasting quality, attention to detail, and engineering. Their mission from the beginning has been to "Wow" the customer in every aspect possible. When they ran into issues from outsourcing manufacturing, they decided to build a factory of their own to guarantee optimal quality. The Mi- One fundamentally changed vaping by incorporating fashion with it's small and discreet size paired with function that will produce the desired flavor that was lacking from other devices on the market. After launching the Mi-One, consumers spoke up with roaring applause and created a huge momentum behind it!

MI-POD
SV was prototyping some products during the Mi-one launch, one of them being the Mi-Pod. Mi-Pod is their latest pod-system device, which is building a reputation as the hottest item in the market right now. Available in +20 countries and growing every day, The Mi-Pod is an American designed & engineered device with a custom built 950mAh battery (3x the competition) with a true "Vape-Pod" system that produces flavor and vapor with the same quality that users have come to expect. The Mi-Pod is a 2ml pod system (by US and EU regulations) that lends the user the ability to use any liquid, from dripper juice to the popular nic salts. The airflow is designed for lung inhale, yet the chip is designed to be sensitive enough for mouth-to-lung. Additionally, for users that want a really tight draw, the Pods come with an optional insert plug to tighten the air flow to adjust for personal preference. The price of Mi-Pod ranges from $45-$50 that includes 2 pods that allows for +5 refills each (save money with being able to refill!). The additional refill 2-pack of pods cost only $10. Just for feedback, they gave out free Mi-Pods at a tradeshow and got a lot of compliments on the fashion style, strap, customizable abilities, and the smaller vape for public discreet vaping, including it's "Stealth Mode" that will turn the light off. The positive reaction to fashion led them to focus more on the style aspect of the brand since they already had a high quality product, and directed their attention to obtaining high quality materials for the fashion as well, so the consumer could have a device to be proud of, from the outside in!

OLD LOCO & MI-SALT
SV wanted to extend the quality of their products to the e-liquid that consumers would be using in their vapes, so after traveling the world and searching for the best quality raw materials for E-Liquid, Amir and Geoff found the winner! Introducing Old Loco brand, with 3 distinct flavors created from sourcing raw materials from multiple countries; Mambo Mango, Electro Currant & Salsa Grape. The flavors are named such because when you vape it, you just want to dance! Old Loco won Best in Class at Vape Showcase Dallas for Mambo Mango and Won again Best in Class at Vape Showcase St. Louis for Mambo Mango. The flavors are truly unique and represent their passion to "Wow" the consumer. Riding on the success of Old Loco, they have also produced a highly anticipated line of eliquid called Mi-Salt! With the vaping market transitioning into nicotine salts, it seemed like the perfect time to announce the Mi-Salt launch. Stay tuned!

S6XTH SENSE
Smoking Vapor has also created a brand for the cannabis market called S6XTH SENSE. You can view their range of products at www.s6xth.com. S6XTH SENSE brings vape technology, experience and fashion for the Canna industry consumer with products like The Rabbi, a cartridge designed for thick distillates, and The Swan, a fashion forward vaporizer designed to fit all pre-filled cartridges! Additionally, they do a large OEM manufacturing business for distillate cartridges for oil extractors.

Smoking Vapor received the prestigious INC5000 award for fastest growing private companies in USA now 3 years in a row! The Smoking Vapor team even won Gold at the International Stevies Business Awards for Sales and Customer Service in 2016. The SV team has grown significantly in both branches, with 30 employees in Phoenix, and another 80 at the manufacturing facility overseas. Geoff emphasizes that Smoking Vapor is an American company with an American business model to provide top tier quality products and customer service. "Our company has a mission to create products that improve the quality of people lives. Our values are on "wowing" the customer. We believe in radical inclusion. Every person is unique (as is each of our staff) and we want each person to let their true selves shine. When we make products, we include everyone's ideas and feedback and the unique colors, patterns and materials we use are so users can express themselves and their personal style." You can visit their online retail store at www.smokingvapor.com and their online distribution and wholesale at www.svdistro.com