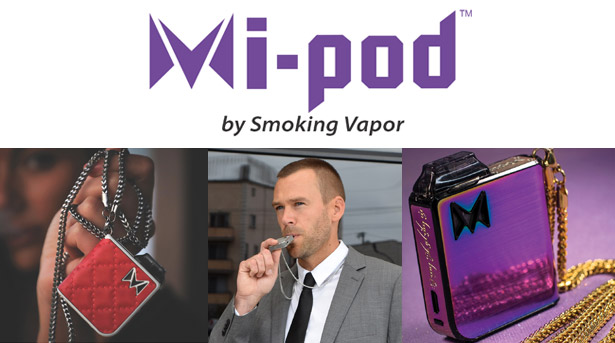 Smoking Vapor: Mi-Pod
Innovation, Simplicity, Fashion It is often said that necessity is the mother of invention, true. In this case, however, perhaps a "stink eye" added to the inspiration.

Smoking Vapor was founded in 2008 by Amir Hakak in Phoenix, AZ. Amir was a smoker for 16 years. Growing up in Israel smoking was much more accepted and commonplace, thus he was surprised when he received negative looks and almost "disgust" from others whenever he smoked in the US. One day while cooking at a BBQ in his own back yard, he got the 'stink-eye' from one of his guests and realized that something needed to change.

While talking with a friend about the unpleasant incident, his friend mentioned that he had quit smoking using an electronic cigarette. Intrigued, Amir tried an electronic cigarette and within a month quit smoking. Astonished by his personal success and realizing this could help others, he then reached out to the company to pursue wholesale opportunities and opened a retail kiosk. In 2008, Smoking Vapor was created to help people move from Smoking to Vapor. (Vape wasn't even a word yet.) Within a year, he had opened more than a half dozen retail kiosks with great success. An innovator at heart, he began having ideas on how to improve the product quality and overcome common consumer issues, but his supplier didn't want to change.

Then, unbeknownst to many in the vape industry today, in 2009 the FDA shut the borders and froze all electronic cigarette sales claiming that it was a cessation device and thus subject to pharmaceutical FDA guidelines. No one could get product and Smoking Vapor was almost doomed from the start. Amir reached out to his friends from Smoking Everywhere who then joined forces with Njoy to battle the FDA ban in court to get the product back on the market.

After the historic 2010 lawsuit that overturned the FDA's blockade on e-cigs, Smoking Vapor was back in the game. Amir wanted a better performing product and started designing and manufacturing cig-a-like products instead of just outsourcing from suppliers. Amir spent 2010-2012 attempting to perfect the early vape technology. Then, in 2013, after a chance meeting with Geoff Habicht that led to a powerful partnership, Geoff bought half of the business and joined Amir, bringing in his own background of working as an executive in a Fortune 500 company. Together, Amir and Geoff rebranded and restructured the business in 2013. SV®, was born from a love story between vapor products and a team of dedicated individuals who were determined to offer only the best, and most unique vaping products to their consumers.

While innovation and perhaps social criticism were instigating factors of SV, their mission has always been to improve the lives of the world's adult smokers and their families. Their vision is to enhance the lives, delight the senses and provide extraordinary experiences to our customers, employees and partners around the world.

Innovation Continues

What began as a retail operation with 4 employees and a small 400 sqft office has grown into a global design, engineering, manufacturing and distribution consumer products business with more than 40 talented and dedicated people in a new +10,000 sqft US corporate headquarters.

Additionally, in 2016 they made the strategic decision to create their own hardware manufacturing facility and build from the ground up. After years of using contract manufacturers and running into issues in Asia with suppliers, quality, and distribution controls, they decided to build out their own facility to be able to control all aspects of our engineering, supply chain and quality control. This has also allowed SV to have greater control over intellectual property globally and help protect distribution channels against counterfeits and clones.

In the US market they are focused on providing the best quality, support, service and marketing tools to their partners and customers. They continue to invest in people and are fortunate with the design structure of the Mi-Pod and its fashion component which has allowed them to continue to rollout out new color collections. However, much has changed in the past few years with new product development due to FDA restrictions in the US market, so they have shifted much of R&D to the international markets (we are now in more than 40 countries) where regulations like the TPD are manageable and also into the cannabis space where their technology is applicable.

The Mi-Pod™ was designed to delight all the senses of the discerning adult smoker. Sight, feel, taste, smell, sound and intuition. From the luxury materials and fashion-forward design, to how it feels in the hand, to the best possible flavor and the satisfying airflow and vapor production intuitively designed to make one say, "Wow." When innovation is combined with simplicity and fashion, it becomes the ultimate sophistication. Based in the USA, the Mi-Pod™ by Smoking Vapor is rapidly becoming an e-cig category leader and takes vaping to another level designed to satisfy and delight the adult smoker. Backed by a 100% warranty, the Mi-Pod™ is a unique pod system that uses 2mL refillable pods that can be refilled 4-6 times and works with ANY e-liquid, including CBD, allowing one to sell profitable e-liquids. With 3x the battery life of other pod systems, the 950mAh battery makes the Mi-Pod™ a true all-day vape. The device is discreet, compact and is available in a number of luxury styles which can also be accessorized with a lanyard or chain. The Mi-Pod™ starter kit comes with: a Mi-Pod™ device, a USB charging cable, a neck lanyard and two empty refillable 2mL pods. Store display cases available. For more information from Mi-Pod™, 1-800-775-8970 http://mi-one.com/downloads.

With the success of the Mi-Pod™ and it's compact, discreet, and versatile fashion forward design, the female demographic has grown to be +50% of the consumer base. This specific growth has really helped adapt and craft the strategy in Smoking Vapor's marketing. Marketing to women smokers as well as men in a professional and respectful manner has been hugely successful. Also, since they are international, they adjust their marketing approach appropriately based on the demographics of each region coupled with cultural sensitivities necessary for any successful global business.

Other products include:

Mi-Salt® - Your Mi-Pod™ needs the perfect pairing! Our premier line of salt-nicotine E-liquid is taking the market by storm and is available in four exquisite fruit flavors plus our award winning tobacco and premium menthol. Mi-Salt® was designed to tantalize your senses and evolve your Mi-Pod™ experience with flavorings from around the world. The 30mL bottles are available in 20mg and 40mg.

Wi-Pod™ (coming 4/20) – The Wi-pod™ is a game changer for the oil and distillate vaping market. It has been designed and engineered by passionate vaping enthusiasts here in the USA to deliver an experience that exceeds all expectations. It consists of a super compact innovative electronic vaporizer with a large oil capacity and a custom made built-in battery. Featuring a patented OAS system (Oil and Air Separated), with top air flow and no leaking, the Wi-pod™ has amazing airflow and flavor production that is elevating the oil vaping experience to new highs. It supports both disposable cartridges and refillable cartridges. Furthermore, the Wi-pod™ comes with an auto draw function, 3-color power indicators and a micro-USB port, which makes it very convenient to use and charge. Please read the user manual carefully before using. Pods are reverse compatible with Mi-Pod™.

Wi-One™ (formerly the Swan) - We insist on only making top quality concentrate items using state of the art manufacturing process implementing a high standard of safety in all of our products' protective measures. This cannot be said about the countless cheap knock-offs and counterfeits on the market. With a 4 temperature settings and a 650mAh battery, the Wi-One™ is engineered specifically to maximize the flavor and vapor profiles of any thick oil cartridge. Every piece is inspected in-house, and all of our kits come protected by our 100% warranty to help provide you with peace of mind that your vaporizer will be extremely durable and perform at its best for a long time. Each is designed to optimize convenience, and to maintain a stealthy appearance so customers can feel comfortable using it wherever they go. Our discrete Wi-One™ thick oil vaporizer comes in a variety of colors to help match everyone's style and preference, making them not only convenient and powerful, but fashionable as well.

Quality is a core driver of Smoking Vapor. Quality means dedication to craftsmanship, this starts with design conception, goes into manufacturing, and lasts through the life of a product.
As Geoff explains, "Our products are not meant to fulfill the innate desire to live your life to the fullest, but rather to stimulate your senses and be a subtle way to express your own unique style while you make better choices for yourself. This is our passion that we are grateful to be able to share it with the world."
Smoking Vapor's quality has been recognized. In addition to their customers' accolades they have received the following awards:

INC5000 4 years in a row (2015, 2016, 2017, 2018) – America's Fastest Growing Private Companies

ACQ5 Awards – 2018 Game Changer of the Year

ACQ5 Awards – 2018 Company of the Year (Consumer Technologies)

ACQ5 Awards – 2018 Scale-Up Company of the Year (Consumer Products & Services)

Amir, Geoff and their team are dedicated to creating a personal connection with their customers. "We believe in people first and being a customer-centric organization. This is done firstly through our dedication to listening to the customers and providing unparalleled customer service to gain insights on the always improving quality & product details to deliver a better user experience. Second, and just as important, by building business relationships that are about people and on a foundation of trust and mutual benefit."
"It is important that stores and consumers know that we are a US-based company. We stand behind everything we do 100% and any issues, concerns, questions, we are always here to support and help. It is at the foundation of our values as a business and we believe in complete transparency to build relationships for the long term." "We want to make a personal connection to deliver the best possible service, so please Call US! We have a dedicate team of support personnel to ensure you are taken care of 100%."
Geoff Habicht – President & Co-Founder
Amir Hakak – CEO & Co-Founder

www.smokingvapor.com
800-768-9982 CONSUMER
www.svdistro.com
800-775-8970 WHOLESALE/DISTRO

You can also reach Smoking Vapor by email at support@smokingvapor.com, or through DM on Instagram @mionevape.