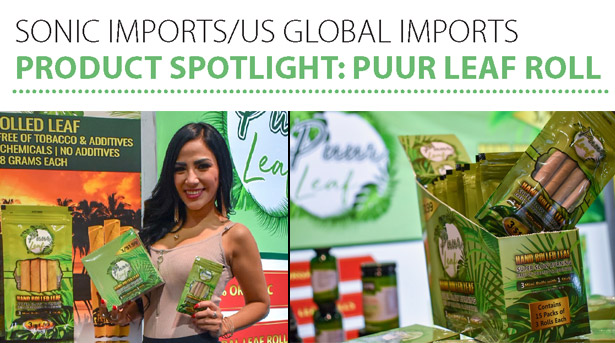 Sonic Imports/US Global Imports
Imagine the traditional smoking wrap or rolls that are common on the market. Now, imagine a smoking roll that is free of tobacco, free of hemp, free of pesticides, chemicals, or any additives, and also free of taxes in every state! This was the intent behind the The Puur Leaf Roll, which is presented by US Global Imports. In business for over 10 years, US Global Imports is well known in the industry as a company dedicated to providing high quality, low price distribution. Nader, founder/ owner of the Puur Leaf Roll came from a business background in tobacco and cigarette products for over 15 years. Over those years, he has witnessed more and more taxes being imposed by states on tobacco products, and recently, hemp products as well. He dreamed of a tax-free, tobacco-free, hemp-free roll that would suit even the most experienced smoker. After searching all across the globe for the ideal smoking leaf to recreate a natural smoking experience that comes without the high price of taxes, the brand was officially established this year, in February. US Global Imports is now proud to present the Puur Leaf Roll to retailers and consumers nationwide!
Tobacco product taxes can really cut into retailer's profits. Taxes aside, what makes this tobacco-free, Puur Leaf Roll a superior smoking product? Two words- The Burn. Smokers anywhere can tell you that the burn matters. The Puur Leaf Roll is super slow burning, in fact, it's slower than any other leaf! On top of that, it provides an even burn, which means no running to deal with, just an even, smooth, and slow burn.
What is this crazy-cool leaf that promises the ideal burn any smoker could ask for, and is a retailer's tax-free dream? Well, it's kind of a secret since no one else has it. What we can tell you, is The Puur Leaf Roll is hand rolled, one at a time, from a natural herbal leaf that is similar to a palm tree leaf, which can only be grown in Eastern Asia. These Puur Leafs are grown organically without any fertilizers or pesticides. During the process it is not treated with any preservatives or any artificial chemicals. It is 100% organic and natural. The real secret here, is that Puur Leaf Rolls let nature do the work to provide the best product!

For an introductory price, each $18 wholesale/$15 dist. box comes with 15 individual pouches, each pouch contains 3 mini rolls and 1 packing stick. Each hand-made roll can hold up to 0.8 grams of material. These 3 in-a-pouch mini roll packs are recommended to be sold for $1.99 retail. The branding and packaging of the box and pouches convey the purity of the leaf with an extra emphasis on its organic and naturally sourced materials. The company behind Puur Leaf Roll, US Global Imports, takes the most pride in excellent customer service and receiving positive feedback from consumers through social media channels where they are constantly implementing a strong marketing campaign to bring brand awareness to consumers.

The brand is excited to announce their first expansion on the Puur Leaf Roll line, they will be adding flavors; Honey, Russian cream, and even CBD infused! Look for those new flavors coming out this summer. Since these flavored leaf rolls are not tobacco and not hemp, FDA and tobacco regulations are not applied to this product and banning flavors (and tobacco flavors) are not going to effect the sale of these products. The brand is also looking forward to introducing additional sizes to the line, starting with Jumbo Size later in the year. Retailers can expect to find The PUUR Leaf Roll exhibiting at Champs Trade Shows in Las Vegas this summer and in Denver in the fall. In the meantime, please visit www.pureleafroll.com and www.usglobalimports.com for more information on this revolutionary new smoking roll!