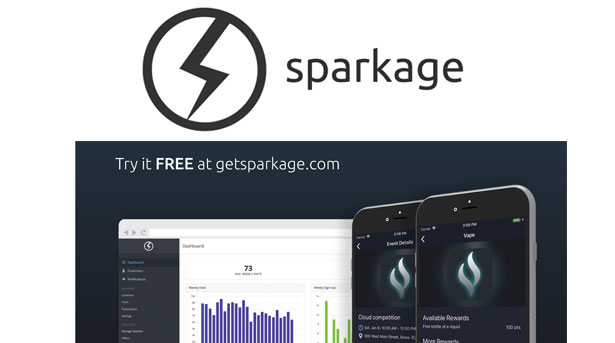 Sparkage
Build loyalty, Broaden engagement, Boost revenue.
Loyalty programs are proven to increase customer lifetime value by up to 30% or more - Forbes Magazine 2016
Sparkage is a pioneer in customer loyalty and engagement. Their focus on state-of-the-art mobile and cloud technologies puts your company right in the palm of your customer's hand–literally. Paper or plastic loyalty cards that can be forgotten, lost or abused by your employees are a thing of the past.

With Sparkage's unique platform, you'll get all the tools you need to track your customers' behavior and keep them coming back. Sparkage allows you to send push/SMS notifications, and assign automatic offers to your customers based upon their activity or even for a birthday.

One of their most powerful tools will help you turn your customers into a sales force that can refer their friends and family to your business. Both the existing and new customer can be rewarded with incentives.

Creating an account is quick and easy. Your very own custom loyalty & rewards program will be active within minutes on the Sparkage Mobile App (for both Android & iOS).

Sparkage's affordable pricing puts this powerful technology within reach of any business of any size. Since it's cloud-based, you can manage your account, and administer your loyalty and engagement campaigns from virtually anywhere.

Visit getsparkage.com today to bring your business into the mobile era with a free trial.