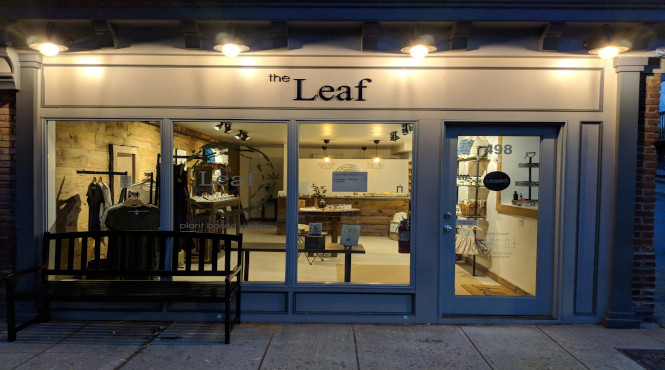 The Leaf NY
Growing Like a Weed (from Seed)

Vision. Not all entrepreneurs or business owners possess it. Grant McCabe, owner and founder of The Leaf NY does. A new business, The Leaf NYwas founded just a year ago in Beacon NY.

McCable was not new to business, however. He owns other companies that sell CBD products so he saw first hand the huge swings in price and quality. He also knew that inconsistency can be the death knell to any business. He decided that he could do better. But it wasn't that simple. McCabe applied for a hemp grower's licence in New York. The goal: to build a brand, rather than just being another random CBD company online. McCabe was granted a grow license in March, 2019 and opened a store, called by some "a smokers Mecca" in July. Quick work, for sure and they are not done. They are working toward making all of their products seed-to-sale.
The Leaf NY is not a big business. They have a staff of about 10 and this sustained steady growth in the early stage of their business suits McCabe just fine. "We've grown a lot, but we don't want to grow too fast, because we don't want to sacrifice quality control."
Simple, trusted, value these are some of the words that describe The Leaf's core philosophy. They try to keep their marketing simple, so a customer can easily look at the product and understand the differences as all CBD is not the same. McCable and his staff are trying to create brand awareness and distinguish themselves in the retail market before jumping into wholesale. According to McCabe, "A lot of retailers and wholesalers look at CBD like it's a commodity – if ours is $5 more than another no-name brand they will often go for the lower price."

They combat this commodity mentality by simplifying their product line. "We've noticed that a lot of our customers (targeted at 35+ who want the benefits of marijuana without the high) are confused when they come into the store." So their goal is to make it less confusing. They offer higher-quality products, tinctures, gummies, muscle creams, bath and body products, etc., at a lower price than other premium CBD brands. An educated customer is a loyal customer.

The Leaf NY is passionate about the benefits of hemp, and extremely proud to be the first grower-owner retail store in the Hudson Valley. However, their popularity has surpassed the boundaries of NY. Their hemp tea was recently featured in Forbes, and Fox News profiled their 'Operation CBD' program which was developed for veterans.

Currently, The Leaf only sells to retailers, but as the scale up, they plan to also sell to distributors. Currently, customers can buy our products online at theleafny.com.

www.theleafny.com
(845) 558-3477