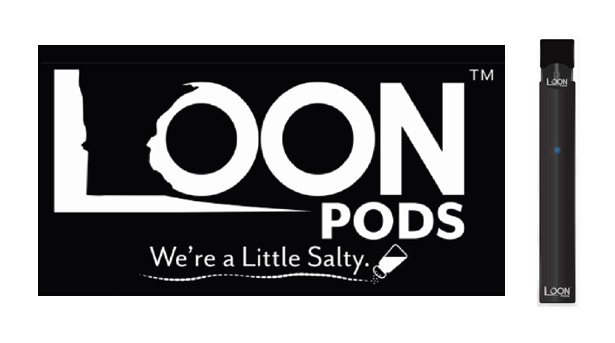 The Loon
The Loon Electronic Cigarette brand was established in 2013 with the goal to create a smoking alternative that could withstand the coldest winters with one of the industry's strongest batteries, especially since they are based out of Minnesota.

The passion behind designing something to be proud to hand to friends and family inspired the beginning for The Loon. What started as a Minnesota tobacco distributor grew into a cigalike cartridge system manufacturer, and has now evolved to introduce their very own line of top industry-compatible salt nic pods. After hearing issues from customers about the lack of flavor selections from other major industry closed pod systems, The Loon formulated an extended pod line that would be compatible, offering a wider variety of delicious flavors for consumers to choose from. The Loon Pod's mission is to provide an economical product that offers great margins for the retailer by keeping internal costs down, and offering exactly what the consumer is looking for.

The Loon updated their Pods late last year and resounding applause from consumers (who can't get enough of their flavors) has left them beaming. Their current best-selling flavors include Mo Mango, Blueberry Bliss, Lemon Lightning Ice, and Strawberry-Banana Smash, which is an excellent introductory flavor to the line. The Loon Pods pack stands out among other pod packs because they come with 5 1.0ml pods in a pack, whereas most others usually come with 4 0.7mlm pods. In addition to being generous with the pod packs, The Loon rotates a variety of 12-15 different flavors year round so they can offer additional flavors during peak seasons. Each pod contains 5% nic salt. As they explain on their website, Nicotine Salt, also known as Nic Salt, is a type of processed nicotine used in The Loon Pods. The purpose of the Nicotine Salt itself is to enhance the vaping experience by utilizing increased strengths of nicotine, while having little to no harshness at all. What customers love about The Loon Pods, are that the flavors actually taste just like the real deal. The authenticity of the flavor profiles will delight every new customer. You could even do a blind taste test to see for yourself. For those who love to feel minty fresh, The Loon has dedicated "Ice line" with a variety of supercharged menthol flavors; Lemon Lightning Ice, Blueberry Bliss Ice, Strawberry Buzz Ice, Mr. Grapefruit Ice, Pineapple Express Ice, and Mint Crush. For the crowd that likes bold and fruity selections, The Loon offers Pineapple Express, Passionfruit, Cherry Bomb, and Boujee Grape. Last but not least, The Loon offers some of the originals like Classic Tobacco and Mad Mocha.

Not only does The Loon offer an ultra-tasty solution to the flavor selection dilemma, but if a user hasn't committed to a closed pod system yet, The Loon has them covered with a convenient and affordable Starter Kit. The Loon Pods Starter Kit and Battery pack retail price starts at just $39.99 and comes with 5 pods in assorted flavors; tobacco, mint, mango, lemon ice, and grapefruit ice, and a USB Duo Charger. The Loon Duo Charger is more versatile and multi-use than most traditional chargers, because it offers the capability to charge two batteries at once on the same charger. It also works for charging your battery in the car.
Jeff, Sales Manager at The Loon believes "We work hard to always give better than we get, by consistently providing quality at an affordable price."
Even if a problem arises, they are prepared to make things right 'and then some' for their customers. Future plans for the brand include bringing out new products that will allow retailers to offer exceptional product deals for their customers. They are also increasing their presence to be more accessible to retailers nationally. You will have the chance to meet them at Champs this February in Las Vegas, or you can visit their website at www.theloonmn.com. For more information and to place an order please call 651-487-4056 or email theloonmn@gmail.com.