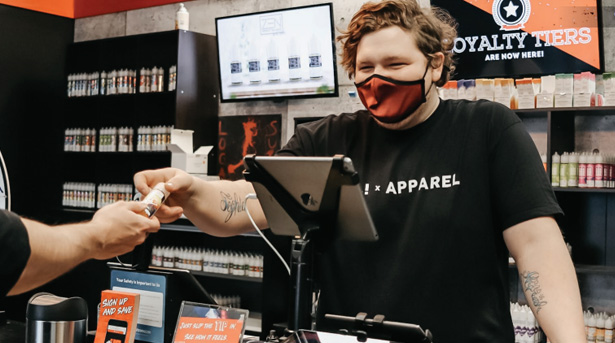 Token of Trust
Age and Identity Verification Changing Under VPPR

The Verification Process and Customer Experience By Austin O'Brion

In July 2020, Mikey Bars felt a sinking feeling in his stomach regarding the future of his vape retailing business, ill!HQ. Amid the COVID-19 crisis that had already gouged in-store sales, he became aware of Health Canada's latest restrictions on vaping products under the Tobacco and Vaping Products Act. "When the news broke about the VPPR, it added insult to injury when the COVID-19 crisis had already hit businesses like ours hard," said Bars.

Many Canadian vaping retailers have shared similar concerns about the impact of Vaping Products Promotion Regulations (VPPR) on their businesses. One of the most contentious new requirements within the VPPR has surrounded the topic of age verification within online stores. Long gone are the days of checking a box to self-declare that you are above a minimum age. As of September 6, 2020, the regulations came into full force and required verification of age and identity By Austin O'Brion – the most debated topic, however, is where the verification process should occur within the online customer experience.

Mr. Bars believes that "it became apparent that in order to comply, we'd need to apply a greater amount of customer due diligence in our online experience and that we could no longer ask website visitors to check a box or check a database to simply verify a birth date. However, direction from Health Canada regarding the exact placement of this new due diligence process on our website still seemed fuzzy."

The VPPRs prohibit vaping products from being advertised in public spaces if the ads can be seen or heard by youth, whether in brick-and-mortar stores or online. It also prohibits retailers from displaying vaping products at points of sale in a manner that they may be seen by youth, including online. Some have taken this to mean that verification should occur at the point of sale during the checkout process on a website. Others interpret this to mean that no website visitor should be allowed to see contents of Canadian vaping product websites until a visitor is age- and identity-verified.

ill!HQ began rolling out more rigorous customer due diligence in 2020 when the VPPR came into force. "We started verifying age and identity by capturing a government-issued ID from all of our online customers – then, we ran performance experiments on different placements of this step within our website," said Bars.

Many online retailers expect the placement of the age and identity verification process to have a high impact on checkout conversion rates and sales. Until all online vape retailers adopt a similar standard, there is a belief that visitors will choose to buy from sites that offer the least amount of resistance. Placing the verification process upon entry to the website can have the highest negative impact on customer abandonment, while lower abandonment rates can be observed when verifications occur prior to checkout, and lower yet after checkout before the items are delivered.

Since the VPPRs have emerged, online vape retailers in Canada must weigh the risk of lost sales against the risks of inadvertently not abiding by the VPPR. If Health Canada clarifies their stance on where verification should occur and decide it should be done upon entry to the site, online vape retailers may need to adopt more of a "members-only" type of model akin to what has become common in the cannabis industry. But if verifications can occur at checkout, it would be similar to what many vape retailers do today, but with added due diligence in their process.

"When looking for a partner to work with for verifications, we put a high priority on companies that could be flexible and tailor the customer experience for a wide variety of VPPR-related outcomes," stated Bars. "After considering a number of different solutions, we eventually decided to partner with Token of Trust for our age and identity verification solution and we've been very happy with it. Our loyal customers barely notice any changes because their system does some innovative things to streamline previously verified customers."

During the months of the pandemic, ill!HQ found resilience in selling through its strong online presence, and it has become one of the busiest online vape retailers in Canada's Niagara region. "Online sales grew at least 23 per cent in every quarter of 2020 and we're bullish on the future of our business," Bars noted.

While clarification around the placement of the age verification process is still being established, the VPPR is in full force and requires additional customer due diligence. The year of 2020 introduced much chaos and change, but 2021 looks to be a year of new standards.

The views and opinions expressed in this article are those of the author and do not necessarily reflect the official policy or position of Health Canada or the Canadian Vaping Association.