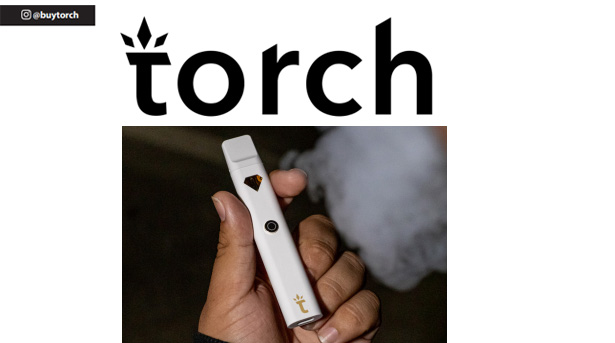 Torch
Established in 2020 in Southern California, Torch Enterprise has quickly emerged as a brand synonymous with convenience, affordability, and most importantly, fun, revolutionizing the retail smoke shop industry.

Founded by Collin and Shiky, two visionaries hailing from diverse backgrounds, the brand stands out by merging innovation with quality, setting new standards in the market. Collin and Shiky's paths converged to create Torch's distinct identity. With Shiky's expertise in finance and technology, and Collin's years of experience in the e-liquid industry, the duo united their strengths to carve a fresh trajectory for the brand. By infusing cutting-edge technology with their own unique spin on vape products, they crafted Torch products to stand as a testament to their dedication.

A defining aspect of Torch's identity is their commitment to product excellence. Launching 1-2 products every 45 days, Torch maintains a relentless focus on quality, consistency, and reliability. Their signature disposables, in particular, outshine competitors due to their unique approaches. Each new device launch carves a league of its own, with devices meticulously crafted to complement the liquid they hold. This pledge to innovation extends to hardware as well, featuring new shapes, styles, and colors while upholding the Torch brand's top-tier quality that retailers and consumers have come to expect.

Torch's journey into the retail smoke shop world with their hemp product lineup redefines industry norms with pioneering technology. The brand's emphasis on pushing boundaries while delivering the ultimate hemp experience sets them apart. Quality and consistency are at the forefront, not only in the hemp blend but also in the hardware. Purpose-built features like pre-heat, ceramic coils, and USB-C quick charging elevate user experience, ensuring Torch Hemp products are always ready to be savored, anytime and anywhere.

Torch's expertise as a manufacturer goes beyond their groundbreaking product offerings; it extends to their customer service as well. They understand the necessity to have a very good brand rep to customer ratio to fully support the retailers. They also have a robust marketing division and are currently ramping up their swag and merchandise side to uplevel physical in-store marketing. Their distinctive approach as a manufacturer guarantees a consistently stocked inventory, always ready to be shipped to retailers. The advantages for retailers are evident: no more waiting, no more long lead times. This streamlined model empowers retailers to serve their customers promptly, leading to heightened customer satisfaction and greater success for retailers' bottom line.

Torch's pride resonates through their products. Each launch is a culmination of meticulous research, development, and a genuine excitement to share new creations with consumers. From crafting new blends to catering to customer demands, Torch's proprietary blends like Blue Lotus, Caviar Sauce, Live Sugar, and Onyx encapsulate the brand's dedication to creating exceptional experiences. Blue Lotus is a 3.5-gram disposable that promises to melt the stress away with its Blue Lotus + D9 Sapphire Blend that is perfect for unwinding at the end of the day. This relaxing, yet mood elevating blend is available in three enticing flavors: Strawberry Mochi, Purple Dynamite, and Lucky Charms. Caviar Sauce is a 4.5-gram disposable that is infused with a trifecta of cannabinoids (D-8, THC-P and CBG) creating potent and longlasting effects that will have your pinky tipped skyward. Served up in a cutting-edge device that offers both pre heat and large battery for extended use, this blend is available in three popular fan-favorite flavors: Blue Dream, GG4, and Frozen Grapes. Live Sugar is a potent and flavorful blend that focuses on the all-new 8-oh-9 cannabinoid. This new all-natural occurring cannabinoid based off HHC, offers a cleaner, more bubbly effect and is available in three hard-hitting flavors: Bull Rider, Death Star, and Gorilla Bomb. Onyx is Torch's brand new 5-gram disposable, filled with their proprietary liquid diamonds THCA formulation, which holds the title for Torch's most potent THCA blend and largest format ever launched. This premium, discreet, and timeless device is available in three delectable flavors: Unicorn Butter, Kiwi Sherbet, and Grandaddy Purple.

Torch's mantra, "Fun, Convenience, Affordability," permeates every aspect, including their packaging strategies. While maintaining affordability, they ensure quality and style are never compromised. Torch goes beyond product innovation; they are experts at engaging consumers and inviting them to be a part of Torch product development through surveys and Torch Rewards—an industry-first proprietary reward program directly benefiting end consumers and retailers alike. Scanning reward cards packaged with each device accumulates points, leading to a chance to win weekly $50 gift cards, monthly $400 gift cards, and even lavish prizes like electronics and even a brand new Rolex watch! Retailers can boost their sales by tapping into this engaging program, with consumers purchasing 2-3 products at a time to accrue reward points.

Torch Enterprise doesn't settle; they keep pushing boundaries and embracing new frontiers. With fresh product categories and projects on the horizon, they remain at the forefront of innovation. Over the rest of 2023, Torch Enterprises takes center stage at Champs Tradeshows in Denver and Tampa, NACS, and other major regional industry trade shows, offering retailers a chance to see their ever-evolving offerings in person. Torch Enterprise is more than a brand; it's an experience. With Collin and Shiky's driving force and their evident commitment to modernizing the market, the retail smoke shop industry has a trailblazer that's redefining what it means to deliver both excellence and excitement. Don't sleep on Torch—they'll be releasing something you won't want to miss very soon! To get in touch with a dedicated sales rep, reach out to inquiries@ torchenterprise.com or you can establish a wholesale account by filling out a form at torchenterprise.com/wholesale.