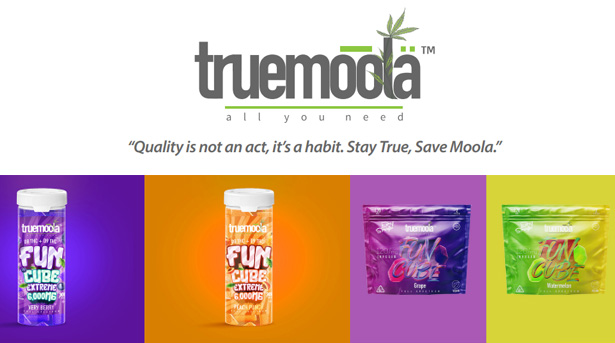 Truemoola
"Quality is not an act, it's a habit. Stay True, Save Moola."

Truemoola was founded in 2020 by two friends, each of whom is a master in their field. Gal Dagan, owner and founder of Truemoola has been in the hemp manufacturing and distribution industry since 2018. Ariel Mizrahi, the owner and founder of Truemoola, worked as creative director for several major companies and achieved great success. Ariel is now responsible for Truemoola's branding, marketing, and appearance. For over 7 years, Gal and Ariel have been friends with a shared love and passion for combining the CBD and THC markets. Three years ago, they noticed the lack of trust by the users and decided to develop a business plan that would focus on educating the market regarding CBD, Delta 8, HHC, and other cannabinoids. Truemoola was created with an emphasis on ensuring the right product is consumed by all their customers.

The team at Truemoola is passionate about hemp and collectively hold a wealth of knowledge about the industry. Their specialty is gummy and preroll manufacturing of high-quality TRUE products and for all consumers to enjoy premium goods at an affordable price. They recognized a need in the market for a vegan, gluten-free, and infused product for all edible consumers. Since the hemp market is not sufficiently regulated, they noticed many hemp products come and go due to a lack of repeat buyers and the prevalence of basement brands. This situation presented the perfect opportunity to step in and provide the market with beautiful, high-quality products that retailers can sell, and customers can use without any hesitation.

Truemoola is well known among their customers for their dedicated customer service and 100% guarantee on all products. The company works diligently to maintain longterm relationships with all their customers by providing fair, reliable, and dependable services. The Truemoola brand has proven that appearance is very important to everyone, which is why the team is always forward thinking in their marketing approach. They are proud of their ability to consistently create unique strains, flavors, and packaging to stay ahead of the market. From manufacturing to marketing, Truemoola has established a trusted brand that aligns with the needs of the market.

The Fun Cube, their flagship product, is their most successful edibles product. The Fun Cube comes packed in a beautiful, easy-to-understand package with 600mg of vegan, glutenfree infused goodies. The Fun Cubes are notorious for their consistency, variety, and unique flavors. Currently, Fun Cubes are available in over 20 fan-favorite flavors such as Cheesecake, Cola, Fuji Apple, Mango, Fruit Punch, and more! The gummies are available as countertop 2 packs and in over 20 flavors in the 10-pack. These vegan, glutenfree infused goods will blow retail customers away with no aftertaste or sticky teeth! Each individual Fun Cube is made with 60 mg pure Delta8 THC, and all-natural flavoring. Each bag contains 10 pieces of delicious gummies. Truemoola products like the Fun Cubes are primarily packaged in custom mylar pouches to meet regulations governing sealed products and to ensure that goods can be handled and stored easily without being damaged. These reusable mylar pouches are made from recyclable materials and are customized to each Fun Cube flavor with unique designs and eye-catching style. Since all Truemoola products come with a 100% guarantee, it is easy for retailers to try the brand for the first time. With their products, all retailers are guaranteed only success. They provide a huge variety of marketing materials to support retailers such as posters, flyers, stickers, banners, entrance mats, hats, shirts, air fresheners, and even free samples. The company launches new products very often, but are especially excited to announce their newest drop, the 6000mg Fun Cube EXTREME.

Their brand goal is to grow their brand presence in more states and spread the fun to all. In the upcoming year, you can expect to see Truemoola at Champs Trade Show and at the Alternative Pro Expo. For more information, you can visit their website at truemoola.com.