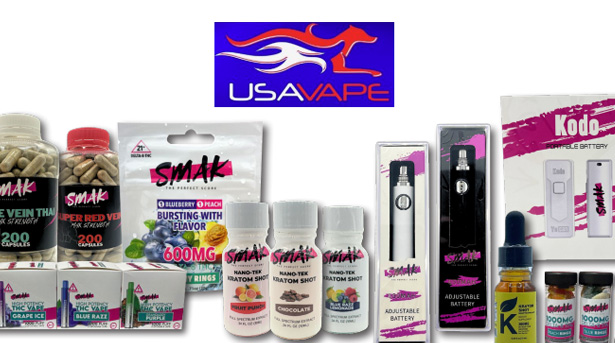 USA Vape
Established on March 18, 2016, in Lantana, FL, USA Vape stands as one of the pioneering companies in South Florida's alternative marketplace. Recognizing the need for a comprehensive destination catering to vapes, Kava, Kratom, and other alternative products, USA Vape was founded as a one-stop shop for discerning customers. Led by the experienced and accomplished Donny Nasr, Owner/Operator/CEO, boasting over three decades of expertise in liquidation, wholesale, manufacturing, and retail, USA Vape has swiftly emerged as a premier brand bridging businesses across the East Coast and beyond.

What sets USA Vape apart from the competition, aside from the meticulous attention to detail at their South facility overseen by Yacziri Delgado and their dedicated staff, is their unwavering commitment to establishing and nurturing solid business relationships. The company takes immense pride in curating an All-Star selection of products, consistently keeping competitors on their toes with their innovative offerings. In addition, USA Vape distinguishes itself by fostering a culture of transparency and integrity, ensuring that every product in their All-Star selection undergoes rigorous testing and meets the highest quality standards. This commitment to excellence not only inspires trust among their customers but also sets a benchmark for the industry as a whole. With USA Vape, clients can expect nothing less than exceptional products and a company that genuinely cares about their satisfaction and well-being.

While USA Vape boasts an extensive product lineup worth highlighting, their flagship K300, Nano products, and kratom liquid extracts have garnered significant attention. However, it is their SMAK brand that truly steals the spotlight. With an array of flowered kratom liquid extracts and male and female sexual enhancement edibles, freshly introduced to the market, SMAK epitomizes excellence without resorting to imitation. It simply delivers "the perfect score" for kratom users. Additionally, the K300 has gained a loyal following due to its remarkable potency and purity, free from any trace elements or fillers.

"We will make it impossible for our customers to want to shop anywhere else," affirms Brandon Craig, USA Vape Business Manager, underscoring their unwavering dedication to customer

satisfaction. Looking ahead, USA Vape has ambitious plans for the future. Their primary goal is to expand production and offer an extensive selection of best-selling products in the coming year. In addition to growing their brand presence through participation in travel and trade shows, USA Vape is thrilled to announce the forthcoming launch of a line of work trucks, facilitating local delivery and transportation of their products. The company eagerly anticipates attending prominent trade shows such as Champs Tradeshows and the Alternative Products Expos in the upcoming 2023-2024 cycle.

Complementing their exceptional products, USA Vape provides around-the-clock sales and resource representatives, well-versed in addressing any customer inquiries. Moreover, their marketing aids strategically showcase specific products within their retail locations. Furthermore, through effective communication and dedication, USA Vape is committed to price-matching competitors to foster longterm professional relationships. Experience their exceptional service by reaching out to them today. Discover their comprehensive range of products at www.Myusavape.com. USA Vape is revolutionizing the alternative market, providing South Florida and beyond with unparalleled quality, reliability, and service. Stay ahead of the curve and explore the world of alternative products with USA Vape - your trusted partner in the alternative market.