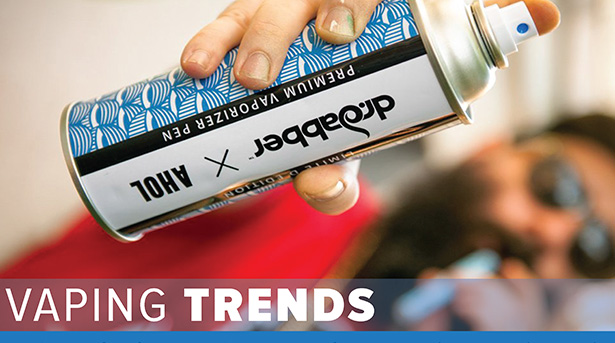 Vaping Trends
Vaping technology continues to evolve, putting better quality products in the hands of more consumers than ever before.

CASE IN POINT: Dr. Dabber recently partnered with Miamibased artist AHOL Sniffs to design a limited-edition vape pen with graffiti artwork, packaged in an authentic faux spray can, as the first release in their new series of artist partnerships. The new pen, the Dr. Dabber Aurora X AHOL Sniffs Glue, features artwork printed in Biscayne Blue/White or Heat Red/Black color schemes on the award-winning Aurora, a fully magnetic, low-heat, variable voltage vaporizer pen.

Where else will vaping technology go next? B2B Wholesaler asked those who know best -- a panel of leading executives with their fingers on the industry's pulse. Here's what they see coming:

COMPETITION A DRIVER: "The vaporizer industry has been rapidly evolving over the past two years, as more states open up and more people have access to medical marijuana," says Pantelis Ataliotis, President of Dr. Dabber, a vaporizer company that has produced the first portable electronic rig. Catering to such a diverse demographic is a challenging task, he points out, "but healthy competition has been driving all of us forward into creating more advanced products with unique functions and features."

Five years ago, vaporizers were still somewhat of a novelty, and by no means considered a primary device by most smokers. Fastforward to today: there is a huge portion of the market that relies on a vaporizer as their preferred way to use cannabis.
"Our goal now," notes Ataliotis, "is to create simple-to-use products that can easily be assimilated into everyday life, whether the consumer is a 21-year-old college student or a 75-year-old retiree."
CONNECTED DEVICES: "Vapor technologies have come a long way in the past few years," says Arnaud Dumas de Rauly, Chief Strategy Officer for The Blinc Group, a distribution- centric vapor and cannabis incubator. "Much safer and precise technologies like ceramic coils and convection have emerged. We have seen a lot more innovation going on in the past few months with the miniaturization of components, along with the emerging extraction market."

In addition, connected devices allowing for precise dosing, like Enovap or Ryah, "are becoming more and more prevalent," says de Rauly, a renowned expert and advocate for the vaping industry, the former President of the French Vapor Trade Association, and the current treasurer of the Vapor Technology Association. "One rule stays the same, though: always make sure you know what you are going to put inside. Only then can you choose/ develop the right technology."

HIGHER IQS: Sasha Kadey, Chief Marketing Officer at Greenlane, a leading distributor of premium cannabis accessories since 2005, suggests that the vaporizer market has advanced rapidly over the past few years, and continues to do so at an even faster pace.

"Consumers now have a higher vaporizer IQ and better understanding of the products, so they are looking for more advanced features," Kadey points out. "On the closed-system side, we are seeing people begin to move away from 'cig-a-like' pen-style cartridge vaporizers towards more proprietary pod/cartridgebased devices like PAX Era, Double Barrel and G Pen Gio."

On the open system side, Kadey adds, "We are seeing an uptick in smart, app-enabled vaporizers with higher and higher levels of heating control and new advanced materials like the ceramic-zirconia in the DaVinci IQ."

QUALITY & FUNCTIONALITY: As consumption preferences rapidly change, so do the vaporizers being brought to market.

According to Mike Bologna, CEO of Dipstick Vapes, a vaporizer company that develops high-end, innovative products for the ever-expanding market, there has been "an increase in both quality and functionality for new vaporizer demands; non-differentiated products can no longer stand out, and customers are becoming increasingly discerning with their purchases."

Vaporizer companies, Bologna adds, "can only succeed if they match the market with reliable, well-made products for a variety of consumption habits." Dipstick Vapes created the Dipper, a vapor tip atomizer that allows for dabbing without a rig and torch, or any loading.

GENUINELY DIFFERENT: "Vaporizer consumers have long moved past the lifecycle where (they) are willing to experiment and gamble on less expansive or product that wasn't thoughtfully designed," notes Richard Huang, co-founder of Cloudious9, a high-tech vaporizer company that developed the first-ever vaporizer with a built-in water-filtration system that allows the user to burn or vaporize their product.

There was a time in this space, Huang recalls, when "anything that produced smoke, even if it was through direct combustion, was called a vaporizer. Consumers are very well educated today, with a number of them providing great suggestions for our products."
Today, Huang continues, "We find just having a well-designed product is not enough anymore, as consumers want to be impressed. Long story short: vaporizer technologies have matured to the same degree as most consumer electronics, as consumers need to see something genuinely different about your product, and they needed to be wowed by the experience."
BEAUTIFUL DESIGN: Michael Trzecieski, CEO of Vapium, a Canadian vaporizer company focused on providing durable, portable high-tech devices designed for outdoor use, suggests that technology is moving from utilitarian operation to "a focus on beautiful design and innovation – cleaner materials, technology with connectivity and portability. We need to think about development (in vapes) so they move seamlessly in the lives of our customers -- both as lifestyle tools as well as delivery systems."

AN EXPERIENCE: "Vaporizer technology and trends are evolving as fast as phone technology," believes Shauntel Ludwig, Vice President of Operations for DaVinci, a popular dry-herb vaporizer company with products that have high-tech features ranging from precision temperature controls to state-of-the-art heating methods, to increased battery life.

"Customers are demanding more than just a product, they want an experience," Ludwig continues. "Customers are asking for more. Vaporizer companies are truly evolving to be technology companies, and at DaVinci we strive to accomplish the impossible and set the bar for innovation in our product offerings."