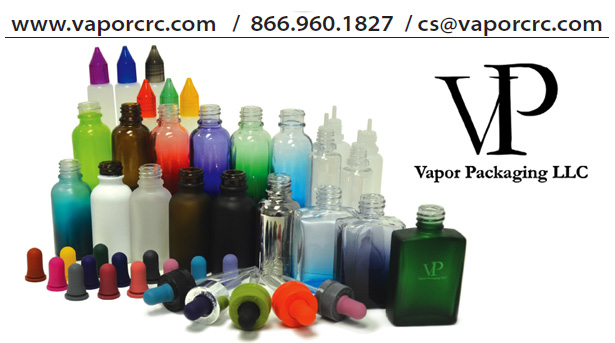 Victoria Packaging LLC
Since 2015, the e-liquid / vapor market has grown at an astonishing pace. With a projected continual annual growth rate of over 22%, the global e-liquid market is expected to reach $50 billion by 2025. While existing packaging distributors scramble to understand the industries unique needs, a small number of packaging distributors have entered the arena and have dedicated themselves to the e-liquid market. One of the leaders that has come to stand out amongst the crowd is Vapor Packaging LLC.

As an elite distributor of packaging to the vapor industry, Vapor Packaging works directly with e-liquid brands, delivering both stock and custom solutions for containing and dispensing their e-liquids. They work with small brands just starting out as well as established brands looking to streamline their packaging costs, offering a range of rigid packaging from soft squeezable LDPE bottles and semi-rigid transparent PET bottles to fully rigid glass European and Boston Rounds bottles and droppers. To round out their service, they offer secondary packaging solutions like custom boxes and point of sale displays as well.
When it comes to e-liquid, there are a tons of options out there for packaging, some of which are quickly becoming obsolete. Safety regulations are constantly evolving, requiring the need for new packaging solutions. Vapor Packaging is acutely aware of this environment, and focuses a good portion of energy staying informed on the rapid changes occurring in the vapor industry. They work hard keeping their finger on the pulse, looking ahead and ensuring that their packaging and closures are certified to meet new and upcoming safety requirements.
While regulations vary by state, Vapor Packaging's inventory offering covers the full gamut. Their droppers and caps are tested and certified to meet child resistant criteria and they provide proof of these certifications to their customers. Tamper evidence is also another big issue brands are facing that Vapor Packaging works hard to deliver on. Most if not all of their packaging comes with the option for tamper evidence. Whether it's a unicorn bottle, or glass European bottle, they offer a wealth of tamper evident solutions for e-liquid brands to choose from.

In addition to being dedicated to the e-liquid industry, one of the things that makes Vapor Packaging elite and really sets them apart from the competition is their ability to design and produce completely customized solutions for their customers. We all know that the market is highly fragmented, and there are new e-liquid brands entering the market every day. Point being, it's important that your e-liquid stands out on the shelves and catches the eye of consumers. This is where Vapor Packaging excels, offering a variety of material, coating and finish options that can transform what was once an ordinary bottle into something really extraordinary and eye catching.

At this point there is no limitation to what they can bring to the table, as their capabilities have skyrocketed over the years due to strong manufacturing relationships and the recent addition of an in-house product design and engineering team. So whether you're a vapor shop mixing small batches in house, or a premium brand looking to take the world by storm with a new cap or bottle design, it would be wise to give Vapor Packing a call. They can help your brand get to where it's going, quickly, safely, and in style.