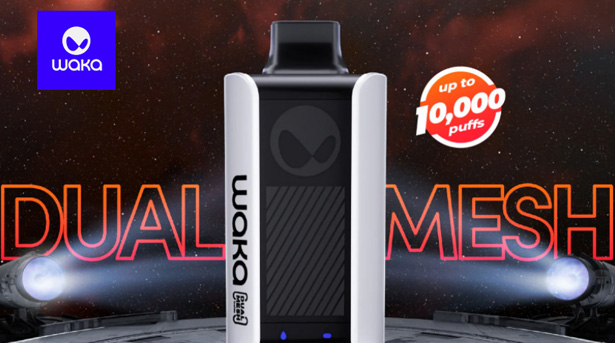 Waka Vape
Article Written by Regina Toney from "She's Savvy Media"


The company vision…

Waka Vape has an uncompromising commitment to: research and development, quality, technology, innovation, compliance and social responsibility. Established in 2022, Waka Vape is a prominent e-cigarette company that was created in China by vape entrepreneurs who are also vape enthusiasts. The founders have a vision to create vape devices that are user-friendly, technology driven, and provide a quality alternative to traditional cigarettes. As of today, Waka is selling millions of units monthly and can be found in dozens of countries throughout the world.

Research & Development…

Research and development has been at the forefront of Waka Vape's initiatives. Being empowered by RELX enables Waka to utilize their chemical and bioscience laboratories as well as the manufacturing facilities that RELX created back in 2018. RELX is pronounced as 'relax'. These laboratories and facilities exceed industry standards for product compliance, employee protocol, safety, and working conditions. Gathering science, feedback from user experience, and constant product testing is key for Waka to grow.

Quality, Technology, and Innovation

When consumers speak, Waka Vape listens. Feedback is an opportunity for innovation and solutions. Some of the most simple opinions from vape enthusiasts can lead to Waka implementing changes that impact the industry for years to come. Devices are created to accommodate the best experience for vapers and Waka Vape wants to be known for leading that charge.

Compliance, Social Responsibility, the Pledge, and Recycling

Along with several other international manufacturers, Waka Vape proudly supports "The Pledge". The pledge exhausts all efforts to remain complaint, socially responsible and to be corporately accountable. The Pledge is centered around: the protection of minors, upholding quality, and safety for e-cigarette manufacturers, vape consumers and workers. Through customer and retail outreach, Waka offers free product and recycling education to the businesses that carry the ecosystems of Waka products. Waka Vape also partakes in an international recycling program making it possible to reuse most of the parts of the devices made. This effort reduces the carbon footprint that vape manufacturing can create. Reusing and repurposing batteries, plastics, and metals found in these devices reduces the factors of e-waste significantly.

Waka Vape, the next big thing is here!

Waka Vape is a new e-cigarette brand found in the UK, the EU, UAE, Asia, South and North American markets that launched at the end of 2022. Vapes that carry the Waka name and logo yield the highest amount of technology, with the best overall experience for consumers. Vape enthusiasts consider the brand to be an oldschool mod device crossed with a disposable, and the best vape to help cigarette smokers quit. The brand Waka has notoriety around the world including: UK, EU, UAE, Australia, Colombia, Paraguay, Canada, Mexico, USA, and many more countries throughout the world. As 2023 comes to an end, Waka looks to grow their brand within the North American e-cigarette market with a second wave of new devices that boast more technology and innovation than ever.

Waka Vape USA

Only eight weeks in the US market, Waka Vape USA is starting to expand everywhere. The brand can officially be found in California, Texas, Florida, New Jersey, Nevada, Utah, New Mexico, and Pennsylvania. During Champs Chicago 2023, She's Savvy Media interviewed the VP of Business Development for Waka Vape USA, Michael Azzurro. Interviewer Regina Toney asked him, "How do you best describe the brand Waka, and the product itself?" He responded with "The brand is really innovative, we have a lot of technology in our products, and people that vape notice it." Michael went further on to say, "we take a lot of feedback into consideration; we do as much research and development to please our fans while also being compliant and responsible."

What is next for Waka Vape?

Waka Vape will be at Champs Las Vegas, NV! Waka Vape will be partnering with Drip Drop Distro to have an industry event: Drip Drop Distro Hosts: "Drip Drop Disco", Presented by Waka Vape. It will be after the second day of Champs in which Waka Vape, Drip Drop Distro, Huni Badger, Stache Products, CosmoSweeps, StundenGlass, Modus, Hitoki, Art Rolls Inc, Royal Tips and more will be showing off their ecosystem of products, hosting convention attendees, and celebrating our industry at StarBase LV. StarBase is a private event space for our colleagues in cannabis, vape, wholesale, and retail to celebrate the success of our industry. The event will have food, drinks, prizes, awards, and give-a-ways, and many other goodies. Before the end of the year, Waka Vape will be rolling out some new products that have new puff capacities, better batteries, and even more technology. 2023 has been a great introduction for Waka Vape and RELX International but this company has some astronomical aspirations for the moon in 2024, it is no wonder why the logo looks like an alien.