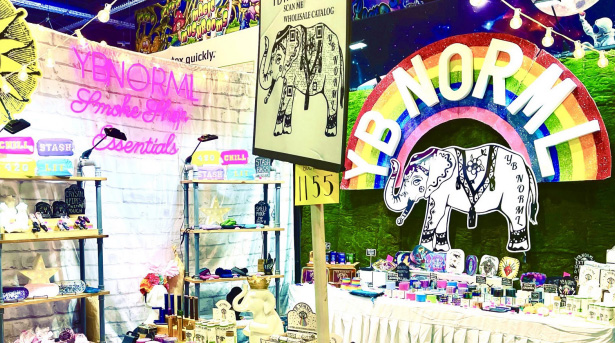 YB NORML®
Unique Smoke Shop Essentials

YB NORML® is more than just a company, it is an artistic concept that expresses creativity, individuality, and celebrates all that is different and unique.

Julie, Owner & Founder of YB NORML® spent her midtwenties in '95 touring all over with The Grateful Dead and Phish. She started out making wire rings to vend at events before saving up enough funds to settle down into a physical store.

On 3-5-96, she serendipitously moved into her brickand-mortar shop with the address number being 35960 in Palm Harbor, Florida. She had come up with the name YB NORML® years before the business started, being inspired by the artistic question "Why be normal?". With a lifelong passion of thrifting for cool, unique, and vintage treasures, Julie brought that ideology into the creation of her own retail store, with a boutique style concept. The shop was built out of a longing to express creativity, encourage individualism, and carry on the whimsical love of decorating life with art. Back in '96 when YB NORML® started, smoke shops were not yet around, so Julie truly presented a new concept to the public when she opened her boutique with smoking accessories.

The wholesale side of YB NORML® is a beautiful phoenix that was born out of the ashes of the original storefront. In 2017, the store actually caught fire at 4:30 am on Thanksgiving morning. "The cops called and said, 'Your store is on fire', the neon transformer outside caught fire and went into the building and burnt it down to nothing.", Julie recalls. With a new baby at home and nothing left of the original business, Julie was forced to move forward with an unplanned relocation to a building across the street, where the landlord brought in another smoke shop right next door to her new storefront. After having to rebuild her 21-year-old business all over again, Julie sought a way to stand out among the competition and revamp the business to bring it back to the glory it embodied before it faced such a devastating toll. After spending 30 years in the industry, Julie learned exactly what shop owners need, and has especially noticed the need for essential smoke shop products that cater to women. After attending countless tradeshows, searching for new and unique products, Julie recognized this huge gap in the market. As a buyer and store owner, she felt she knew what would stand out and catch the eyes of other store owners like herself and could supply the much-needed feminine touch in the smoke shop industry.

Julie started out making branded smoke shop essentials, creating products that would guarantee sales for retail shops like her own. These essential products gained a lot of traction thanks to Julie's artistic flare that consistently caught the eye of shoppers. She expanded her own brand with more products and a greater variety to meet consumer demand. At this point, she realized that she should start her own wholesale brand of her products for other retail shops, too. Julie finally launched the wholesale side of YB NORML® in March 2021 with her own funding. Shortly after, Julie was diagnosed with metastatic breast cancer after battling with breast cancer over the previous years. She made the tough decision to spend her entire life savings on the best treatments available, which successfully brought her into remission. Now, she is focused on getting back on track to regain that savings for her family and to advance her business.

Today, YB NORML® carries Ninety-eight assorted essential products such as dugouts, crystal pipes, ceramic pipes, metal bullet pipes, wood pipes, and more. One of the most popular products are the YB NORML® Grinder Kits, available in a wide variety of extraordinary finishes such as: bamboo, color changing, dragon scale, galaxy holographic, glass top, nonstick, soft touch, and neon soft touch. These Grinders are sold as kits in a designer box with a custom bag, scraper, and brush inside. YB NORML® also offers a beautiful variety of unique Rolling trays beyond the standard rectangle tray, with shapes like Oval, Lips, and Baroque and come in dazzling finishes, such as Lucite. The Lucite Rolling Trays are available in Pink Pearl, Crushed Diamond, Aqua, and Cosmic Purple and come with a custom black satin bag with a drawstring that matches each tray.

Another gem out of the YB NORML® stash are Neon Zipper Stash Pouches that are made with every attention to detail that customers will appreciate and enjoy for years to come! These cute pouches destigmatize the act of smoking cannabis by boasting popular phrases such as 420, Lit, Stash, and Chill, in trendy varsity athlete style font with neon terry cloth and sequin lettering. Even the zipper features a rainbow chrome color with a striking lightning bolt zipper tab. They also offer Smell-Resistant Zipper Pouches available in six popular colors. They even offer Metal Automatic Rolling Machines that roll up a joint in only 3 seconds, sold with a custom drawstring bag.

Their Extra Scrubbing Pipe Cleaner Display serves as an excellent upsell, designed specifically to catch the customer's eye with a white and rainbow display box, packed with forty bundles of white and black striped pipe cleaners. Highlighting the same eye-catching design as the pipe cleaner display, their Filter Tip Tube Display are one of YB NORML®'s best-sellers, with one tube packed with 70 pre-made filter tips, and each display housing 12 ready to sell tubes.

The branding and packaging of all YB NORML® products exude creativity and quality, exemplified by special touches that make the purchasing experience a true delight for every customer. As a shop owner herself, Julie never overlooks quality and always designs products with the look of the instore display as a top priority. Julie is open to distribution with the right company and is actively searching for the perfect fit for her brand. You can expect to see YB NORML® exhibiting at upcoming Champs Trade Shows in the future, among others. Reach out to gain access to the full digital catalog of ninety-eight assorted essential products at wholesale@ybnorml.com or give them a call at 727-785-3874. You can also visit their website at www.ybnorml.com for more information.