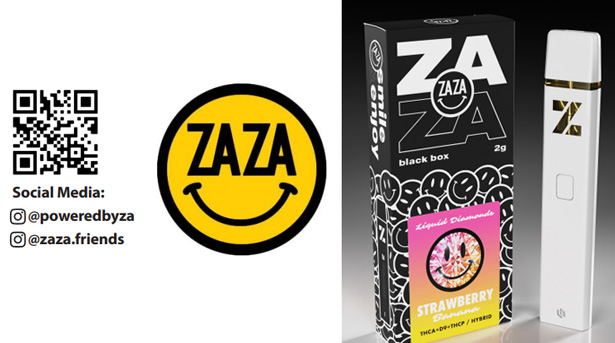 Zaza
Discerning retail store owners know the importance of offering their customers exciting and topquality products that stand out in a competitive market. Zaza is a company that not only delivers innovative and enticing offerings but also takes meaningful steps to support the community and champion social justice causes.

Unlike many newcomers to the industry with little to no experience before legalization, Zaza has a deep understanding of the cannabis space and its history. Their compassion extends beyond mere business goals, as they remain in touch with the plight of those still incarcerated for activities that are now legal. Believing strongly in sharing the wealth to help those affected, Zaza proudly partners with the Last Prisoner Project (LPP). With the LPP logo emblazoned on their 2G cartridges and display boxes, Zaza showcases their commitment to cannabis criminal justice reform. The Last Prisoner Project is a national, nonpartisan nonprofit dedicated to seeking justice for those impacted by the war on drugs. Through legal intervention, constituent support, advocacy campaigns, and policy change, LPP strives to release every last cannabis prisoner and provide crucial support for reentry into society.

At Zaza, promises are not just made; they are kept. Joey, the driving force behind the company, has experienced firsthand the impact of the war on drugs for cannabis-related offenses, along with his family. Recognizing the pressing need for change, Zaza stands as a brand with a meaningful purpose, determined to bridge the gap between the pre-legalization era and the present.

"As a convicted felon and veteran of the 'war on drugs', I am committed to shedding light on the issue and supporting causes that are working toward freeing those in jail from victimless drug crimes. Part of my mission with Zaza is to give back and support organizations like The Last Prisoner Project to help heal the lives of those who have been hurt from imprisonment over cannabis crimes." – Joey, Founder & Owner of Zaza THC

But Zaza's dedication to community support doesn't end there. They go the extra mile by donating 300 backpacks and school supplies to children in need through the Love My Neighbor Foundation in Downtown LA. Love My Neighbor Foundation, is not just another foundation giving away food and clothing. This 501(c)(3) organization was established to allow homeless individuals to keep their pride and dignity as they receive food, clothing, shoes, toiletries, resources, and spiritual enlightenment. Embodying the essence of a socially responsible brand, Zaza consistently demonstrates their commitment to being a force for positive change.

Beyond their commendable social impact initiatives, Zaza is known for their innovative products that captivate the senses and elevate the customer experience. Their new ZAZA BLACKBOX 2G Disposable boasts a preheat button, ensuring effortless enjoyment for users. With two blends to choose from - "Heavy Hitter" features Delta 8 THC + THCP, which is available in 4 mouthwatering flavors such as Watermelon Kush, Candyland, and Blueberry Muffin, and "Liquid Diamonds" features THCA + D9 + THCP, which is available in 3 fruity flavors such as Sour Tangie and Strawberry Bannana - Zaza offers variety and options for every preference. They also have their own clothing brand "Zaza and Friends", which is a vibrant and eclectic clothing line that embodies a delightful blend of whimsy and modern style, showcasing unique designs that emulate the Zaza lifestyle. Follow their Instagram account @zaza.friends for a visual journey into a world of colorful fashion and joyful camaraderie.

Excitingly, Zaza is set to launch their 3G Disposables introducing yet another exceptional product to captivate your customers' interest. To further support your retail success, Zaza representatives will be personally visiting stores soon, establishing direct connections and providing in-depth information about their products and initiatives. Aligning your business with Zaza not only guarantees access to a range of appealing and cutting-edge products but also allows you to contribute to vital social causes. By partnering with Zaza, you not only enhance your store's reputation but also play a crucial role in supporting cannabis criminal justice reform and enriching the lives of those in need.

Zaza is proud to be a brand that not only promises excellence but delivers on their commitment to making a positive difference in the world. Embrace the opportunity to offer your customers top-quality products that transcend the ordinary and embody the essence of social responsibility. Zaza is more than just a brand; it's a catalyst for positive change in the cannabis industry and beyond. To get in touch, you can email them at info@zazathc.com or to get started with an order, you can visit their retail website at zazathc.com and fill out their wholesale form to make an account, or visit their brand new wholesale site at goodnewsdistro.com.