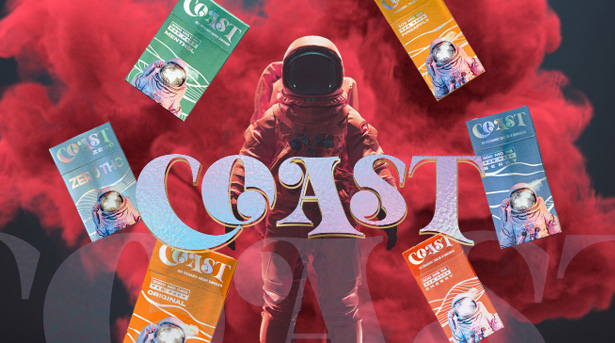 Coast Smokes
Coast Smokes was established in Hawaii by smokers, for smokers with the intent to introduce the market to a premium quality hemp smoke.

Founders of Coast recognized the growing trend of smokers looking for tobacco alternatives as well as people looking to benefit from the effects of CBD. While there are many brands in the space, they noticed that the quality, efficacy, value, and transparency was not there. To fill that gap in the market, Coast were created. The founding team at Coast is made of veterans from the Industrial hemp/CBD industry (with 3+ years on the US Hemp Roundtable) and expertise in manufacturing and hemp production. In addition, they are marketing and branding experts who have helped build and bring successful retail brands to market. With their keen understanding of this specific industry, they knew they could bring an exceptional brand to market that could stand the test of time.

Coast is best known for having the most potent CBD smokes on the market, offering users a whopping 2000mg per pack (and 100mg per stick)! Aside from the potent punch their packs provide, it's easy to spot a pack of Coast Smokes among the crowd. With beautifully designed holographic packages that really flow from one pack to the next, a pack of Coast Smokes is guaranteed to catch the eye and dazzle onlookers at first glance. They offer two types of hemp cigarettes: CBD/CBG and Delta 8. Coast CBD/CBG Smokes come with 20ct per pack, and 2000mg of CBD in each pack. Their unrivaled potency sets them apart, along with their extensive lineup of flavors! Coast CBD/CBG Smokes are available in Original, Menthol, THC Zero, Cherry, Berry, Pineapple, Lemon, and Grape, and retail for $9.99. The Coast Delta 8 Smokes come with 10ct per pack, and 500mg of Delta 8 in each pack. Coast Smokes boast the best tasting Delta 8 smokes on the market, available in Cherry, Berry, Pineapple, Lemon, and Grape. The Delta 8 Smokes retail at 10.99 per pack. Part of what is making Coast a leader of the pack is that they create a better smoking experience than the array of artificial tasting flavored hemp smokes on the market. Coast Smokes provide a smooth smoke with an aroma that feels natural yet flavorful and evenly balanced. The brand name Coast comes from the team and the company's HQ being established along literal coastlines. The chill atmosphere and relaxed state of mind that the coast represents is exemplified in the branding and packaging design, which aims to convey a feeling beyond this world while also reflecting the spirit to explore. The overall vibe emanates a universal chill that incorporates fun holographic flair to really make it stand out.
"We wanted to make something universal enough to be relatable by many, but also unique enough to be remembered. With the packaging design, we chose to capture that relaxing feeling of going beyond the bounds of this world, while remaining grounded and aware." -Max, VP of Marketing at Coast
The team at Coast is proud to promise quality in each stick they produce. After hand-picking each leaf from farm to pack, they ensure that each pack is carefully curated for the optimum experience. Their unrivaled potency elevates their product to new highs. Staying true to their theme of inspired exploration, they've pushed the boundaries of what is possible by discovering how much CBD could be put in each pack to offer the best possible experience with maximum benefits. They show respect to the individuality of consumers' personal tastes by offering an extensive line of flavors to choose from. Coast also puts a huge emphasis on their branding and marketing with a strong push for consumer engagement and following. The astronaut character present in their branding is representative of the consumer, who will feel like they are walking on the moon when using their product.

When it comes to working with retailers, the team at Coast understands the importance of sales support. Coast has a full repertoire of retail marketing assets that come with the packs as ordered, with cohesively branded materials to help retailers sell Coast. These materials can be strategically placed for a full experience from the door to the counter, making it difficult for the customers to miss them! In addition, the company is currently in talks with a few really big master distributors to make it even easier for retailers to carry their products. To check them out for yourself, you can expect to see Coast at upcoming trade shows: ASD, NACS, and TPE. For more information, visit their website at Coastsmokes.co

Social Media: IG @coast.smokes