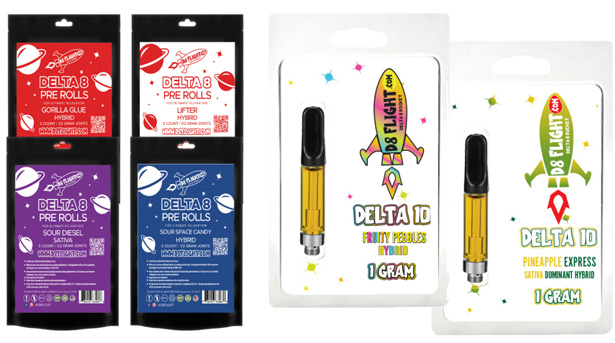 D8 Flight
When they see the D8 Flight rocket logo, customers know they're in for a high ride that's out of this world!

The D8 Flight brand was established in 2020 by experienced hemp manufacturers, located just outside of San Antonio, Texas. With an expertise in developing a variety of products such as CBD and nicotine vapes, the D8 Flight brand was launched with the intent to keep up with the progression of the industry as the hemp world advances into new territory. Although Texas is not yet a legal state for Delta-9 THC products, for this crew, offering a quality recreational alternative for consumers was at the top of the priority list for the Texas team. While operating as a FDA registered facility with GMP practices, they always 3rd party test all raw materials before use to put out some of the best quality products on the market. And they are making a huge following across the galaxy! The team behind D8 Flight specialize in manufacturing, master distribution, wholesale, and retail sales. They even offer their customers white label opportunities, with low MOQs. D8Flight's customers are over the moon with the promotional merchandise they are provided with on a quarterly basis! They will send retailers a variety of branded goodies such as: dab mats, posters, flags, and custom stickers for their white label customers to assist with marketing and promotions.

D8 Flight is originally best-known for D8 cartridges that'll rock your world! Coming from a vape company background, they take a lot of time and pride in creating sophisticated flavor profiles. For example, their fruity pebbles D8 cartridge flavor was formulated using up to 14 different flavor combinations in order to create their own delicious proprietary flavor blend that tastes just like the real thing! They work diligently in the lab to ensure they've got each taste just right, which really shows when you vape it for yourself. Their Delta 8 and Delta 10 THC vape cartridges are created using a potent hemp-derived distillate that utilizes strain-specific terpenes to provide users with an uplifting feel and a calming energy. Each 1gram Delta 8 THC vape cartridge is made using 90+%Delta 8 THC, botanical or cannabisderived terpenes, and their proprietary flavor blends. To ensure utmost quality and safety, they guarantee that their vape carts contain absolutely no vitamin E. D8 Flight promises their customers a very pure, very concentrated vape product to enjoy.

Fuel is key for astronauts in outer space, they can't survive on thin air! That's why D8 Flight formulated D8 Tea, made with 30mg of water soluble Nano Delta-8 for quicker absorption and a higher bioavailability. This means the launch to outer space will be faster and more effective! The Delta 8 Teas are made available in four delightful flavors: Peach Tea, Sweet Tea, Green Tea, and Raspberry Tea to suit every taste. This 16oz drink has a shelf life of 2 years, but should be refrigerated and consumed within 7 days, after opening. The brand had a successful debut of the D8 Tea at the Champs Atlantic City trade show this past September, and the product has been flying off the shelves ever since.

D8 Flight is looking forward to being on the heels of the industry's growth and prosperity. The brand works hard to continue the fight in Texas for hemp rights, and hopes that if Texas becomes a legal state for marijuana, to open their lab to Delta-9 products. They are also planning an expansion of the company to do business in Oklahoma, as well as a brand new satellite office opening up their sales channels in Chicago. In addition to the brand expansion, a new product will be released by the team this month! They will be introducing D9 legal gummies in Texas, offering consumers the opportunity to enjoy up to 3mg (per gram) in their tasty new edible line!

The D8 Flight mission is to infuse a laid back, fun vibe into the experience of their recreational products. Their social media presence, along with their packaging and branding orbits around a retro, nostalgic theme to delight the market. The whole vision is brought to life by their in-house graphic designer, whose artwork puts D8 Flight on the map. The team really enjoys getting into character and interacting and sampling products at Expos and trade Shows, where the D8 Flight booth brings in a lot of attention for playing on their theme. Just look for the "rocket guys" in their bright orange space suits at upcoming trade shows: USA CBD Expo, Champs, Lucky Leaf, Kush Texas Hemp expo, and more. For more information, visit their website at www.d8flight.com or give them a call at 210-965-2187.