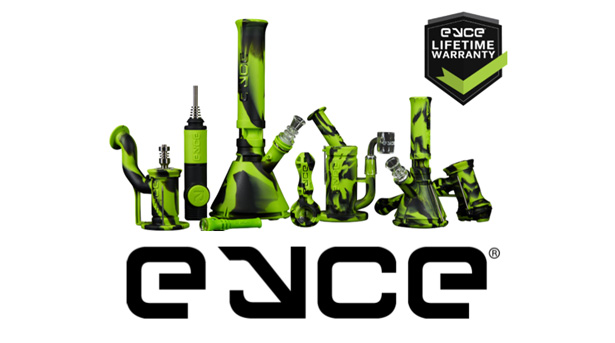 Eyce
The painful heartbreak of a broken glass piece inspired brothers Bruce and Charles to design a creative solution to the problem. Eyce was established in July of 2013 by Co-Founders Charles Hoch, CEO and Bruce Hoch, COO and Principle Engineer in Bend, Oregon. The two founded Eyce to correct an ongoing issue that consumers often face, broken glass. Their first attempt at cracking the Eyce code was the design of a unique and innovative Eyce Mold, which created a functional water pipe made completely out of ice! With the invention of the Eyce Mold, customers could make unlimited water pipes for themselves without the worry of broken glass ever again!

Following the success of the Eyce Mold, Charles and Bruce expanded their original objective by creating smoking accessories made from silicone. Since the pair had already specialized in silicone for nearly a decade, it was a perfect transition for the brand. Bruce's background in mechanical engineering where he designed server enclosures for Microsoft, combined with experience as a large component in the growth of cloud farms, gave him an edge on developing products for the industry. Charlie, having been a professional snowboarder, never cowards at the element of risk, making him a natural entrepreneur. His experience owning various businesses throughout his 20's paired with his expertise in strategy and business development has carried the business to new heights. Now, Eyce offers a full line of the most unique and best functioning silicone apparatuses on the market, backed by a one-of-a-kind lifetime warranty. As the company heads into 2020 and the brand's 7-year anniversary, they are proud to have amassed a portfolio of 19 patents, across 4 countries. Eyce has become best known for their Eyce Spoon pipe. The unique look and features have made it a staple for any head shop or dispensary and one of the best-selling products in the nation.

In anticipation of the holiday season, Eyce has just introduced their New Colorway Box Sets! These new box sets aren't just really cool- they're also the PERFECT multi-functional holiday gift. They feature unique colors such as Deep Blue, Creature Green, Lucifer Red, and, only available in the box set- Glow in the Dark! Each box set comes with 1 Mini Beaker, 1 Spoon, 1 Shorty, and 2 replacement glass bowls. The Colorway Sets are the easiest way to snag the full dream collection before they're gone forever!

Eyce is extremely proud of the opportunity to work with Puffco to develop their official MFP Silicone Peak Attachment for their newly established MFP (Made For Peak) program. Like the Puffco crew, Eyce strives to create products for those who don't settle for "good enough" which is why they've teamed up to bring to the market, the first-ever Eyce Peak Attachment, made specifically for the Puffco Peak™. The joined forces of durability and technology revolutionizes the way users enjoy their Peak. The Eyce Peak Attachment makes the Puffco Peak even more travel friendly now that customers won't ever have to fear damaging the glass apparatus. The Eyce promise of 'Durability That Rips' is extended to the Peak Attachment that is crafted with platinum cured silicone and a 3-part design that integrates water filtration and a snug compatible fit, with the next-level tech that everyone has come to expect from Puffco. It has quickly become a favorite Puffco Peak attachment of it's customers, and is currently available in a variety of neat colors: Flower Purple, Black, and Rasta.

Eyce takes their commitment to their customers seriously. Unfortunately, too often throughout the silicone industry, a lot of factory direct copycats don't stand behind the quality of their manufacturing. Eyce goes to great lengths to ensure that its' raw materials are of the highest quality and meet FDA food safe requirements. Beyond the rigorous quality control processes, Eyce backs its products with an unparalleled lifetime warranty: Break It, Tear It, Burn It – We'll Replace It. Eyce will even replace broken glass parts within the first year of purchase. It's their ultimate mission to "create the last pipe you'll ever need to own, no bullshit." That's their commitment. Eyce is Bold, Unique, Strong, and Creative. Eyce is DURABILITY THAT RIPS!

What is covered by this Lifetime Warranty?
Within 1 year of purchase: 1 Time Free Replacement for glass or metal and Unlimited Free Replacement for silicone parts for any kind of damage or defect. After 1 year of purchase: Unlimited Free replacement for silicone parts for any kind of damage or defect. The warranty program is designed to protect customers against accidental occurrences, and of course, the warranty is only available for authentic Eyce products. All products purchased directly on eycemolds.com are automatically covered by the lifetime guarantee, with no registration necessary. Products purchased from an authorized Eyce dealer must be registered within 30 days of purchase, and proof of purchase is required for registration.

One of the major advantages of working with Eyce compared to their competitors is their in-store support. Eyce would love to connect with shop owners who are interested in creating custom Eyce displays in their stores, from full size co-branded window displays, to custom built LED shelf displays. Connect with them anytime to learn more about their Custom Retail Display Program and how Eyce can help improve your customer's experience and increase sell through!

Eyce is a company that prides themselves on design, integrity, and always creating original, unique, and eye-catching products. You can visit their dedicated team at any of the upcoming CHAMPS tradeshows. For more information, visit their website at eycemolds.com and stay up to date by following them on their Social Media: Instagram @eycemolds Facebook @eycemolds or contact the team by email at sales@eycemolds.com or give them a call at 1-800-980-3923

Attention Shop Owners: Counterfeit Warning
Eyce is aware of counterfeit Eyce products in the marketplace both online and in stores. Eyce has a dedicated team working with law enforcement agencies to stop the distribution and manufacturing of their patented and trademarked products. If you know of or find a store or website carrying counterfeits, please notify them right away at https://eycemolds.com/pages/ report-a-fake

Since counterfeits are not manufactured with the same quality materials as authentic Eyce products, counterfeit units present a number of serious health and safety risks. To avoid purchasing a counterfeit product, they always recommend purchasing through an authorized vendor. Find an authorized distributor on their website or buy online at eycewholesale.com.