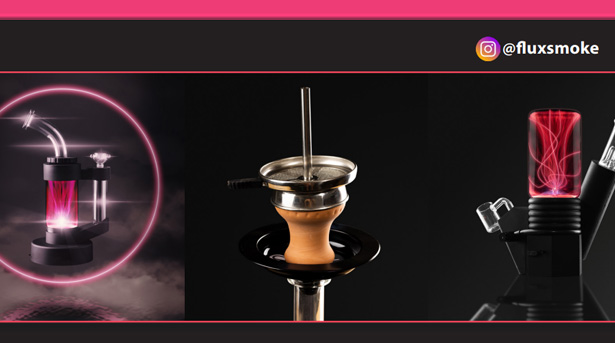 Flux
Once you've seen the Flux, you'll never look at a water pipe the same way again.
Do you remember those awesome plasma orbs, reminiscent of a crystal ball, filled with glowing purple and pink plasma that would surge to your finger when touched?

The Flux was designed as an homage to the great Nikola Tesla, who invented the first plasma ball back in 1894. Of course, many recall the fad from the 1970's when scientist and inventor James Falk, rendered a modern version of the plasma ball, which made its way into the bedroom decor of many self-proclaimed hippies and sci-fi lovers at the time. Today, The Flux plays to the nostalgia of times past, while giving a nod to the inevitable technology-based future in a way that sparks playful imagination for all to enjoy.

Chris Thatcher, Founder and CEO of Flux and his business partner, Derek Raby teamed up to bring the Flux vision to fruition this past March in Orange County, California. Coming from a background in branding, advertising, and marketing in the cannabis industry, Chris has a unique position of understanding the kind of products that are guaranteed to take center stage. The Flux was developed to breathe life back into the experience of consuming cannabis, with a show-stopping presentation!
"We took the old (plasma) tech from the 1970's and reinvented it, to change the atmosphere around cannabis use and infuse more fun into an industry that has become far too serious!" – Chris Thatcher, Founder & CEO of Flux
The Flux flagship product is the first of its kind, a portable and battery operated Plasma Water Pipe! They have taken a traditional water pipe to the cosmos with the integrated plasma light feature. Users can expect smooth hits from the water pipe while watching the dance of the plasma filaments as they discharge and react to any touch. The unit is powered either by USB or optional 18650 batteries. The Flux comes with both a straight and a curved mouthpiece that are interchangeable for the user's preference, 1 bowl, and a micro USB charging cable.

Revolutionizing this old tech to make something new and exciting, with outside of the box thinking has created a viral product that's taking the industry by storm. The team behind Flux is utilizing their years of background in marketing to properly expose The Flux to the mass market. Imagine the social media viral effect as people show off their Flux in numerous dark settings, from big bashes, to the classic at home sesh!

The brand was turning heads when it launched at Champs earlier this year, inciting many impulse buys because it's just too cool to pass up. With so much initial success, the team has decided to keep the excitement going by introducing "The Flux Series"! The Flux simply wouldn't be modern enough if it wasn't built to include today's most popular smoking methods. This series will extend the plasma tech to additional products; The Flux Hookah, and The Flux Ion. The Flux Hookah features all the hookah attachments needed for the ultimate session on a base that will electrify the whole room, while the Flux Ion features a Dab Rig with a sidecar style attachment for the ideal dabbing of concentrates in style.

Flux's branding is represented by a cutting-edge, modern take on a Tesla-inspired futuristic vibe. The Flux Series is bound to bring two worlds together, as old heads and newbies alike will feel connected when they share a Flux hit. Feel the buzz for yourself at their booth at upcoming trade shows: Champs, and MJBIZCon this October in Las Vegas!

For more information, visit their website at fluxsmoke.com

Email orders@fluxsmoke.com to place your order - (949) 386-7333