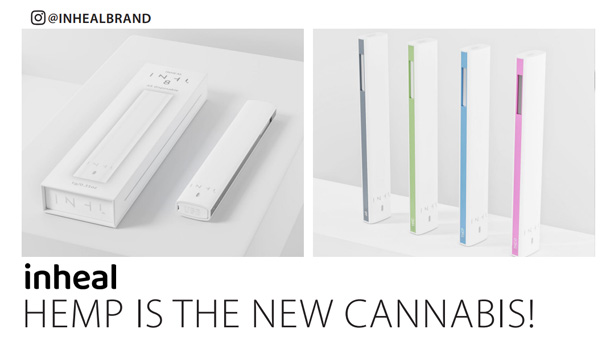 Inheal
HEMP IS THE NEW CANNABIS!

Inheal Brands hails from Los Angeles, CA, where cannabis is king. Established in June 2021, Inheal was created as a parent company to bring a variety of ground breaking product lines to market. These product lines were uniquely developed based on specific objectives of the desired consumer experience. For example, one product may be made for maximum potency, while others are designed as a micro-dose, and some products are aimed at rest and relaxation, while others enhance social activities. Due to their shared passion for the emerging cannabinoid industry, the Inheal vision was brought to life by Naz and Tim, Co-founders of Inheal Brands. The team built Inheal Brands upon a foundation of 3 Key Aspects: Quality, Design, and Consistency to create a special experience for consumers. At Inheal Brands, the goal is not just to sell great products, it is to educate consumers while also exemplifying a lifestyle.

Naz had been involved in cannabis since 2016 when he moved to Oregon as legalization became more popular. He started working on a wholesale cannabis distribution business. As the "Green Rush" created a lot of bottlenecks for the industry, he decided to shift to the extraction field. To meet a big need in industry, following the passage of the Farm Bill in 2018, Naz built one of the biggest extraction labs in Oregon at the time, processing raw material and producing isolate. His experience developing raw material to shelf-ready products positioned him perfectly to start his own brand. When Naz met Tim through a distribution deal, they built a friendship over their shared goal to develop the finest novel cannabinoids on the market. Tim had been developing cannabis and full spectrum hemp-derived products for years and has always been an entrepreneur. He saw the emerging cannabinoid market as a great opportunity. His experience in the industry from designing and formulating products, optimizing manufacturing processes, and streamlining operations for various D8 brands prepared him to take on a brand of his own as well. While living in LA, he saw the large variety brands on the market, and recognized a great need; to create an experience and lifestyle based around these many products to help customers differentiate one product from another, and to guide the consumers' purchasing decisions based on their specific needs.

The brand was developed for longevity, using techniques that build customer loyalty. In fact, Tim and Naz are so sure of their products that they are currently offering retailers a risk-free solution to test the products in stores. They will send retail stores an Inheal Display Box packed with $250 worth of Inheal products to put on their store shelves free of charge!

The target audience for Inheal Brands is the well-educated consumer who wants to conduct day-to-day business while still enjoying the benefits of cannabinoids. Inheal Brands' aims to deliver the message that consuming cannabinoids does not have to inhibit the ability to function as usual - rather, it can enhance daily activities. Inheal Brands' products and packaging were designed intentionally based on the user's desired experience. During development, they would ask themselves questions like, 'When is the best time to consume this product?', 'Where should this product be consumed? and 'What mood or experience should be enhanced by this product?'. This attention to detail always considers the consumer's desired outcome for each product in every product line.

Inheal Brands' flagship products are their Disposable Vapes. These contain the highest quality concentrates, available in a variety of different isolated cannabinoids, each curated for a specific mood using live resin. Choose from 40 exotic strains, which mimic the actual plant, in strains such as Sunset Mintz, Gummies, and many more. The rechargeable and disposable hardware is made with ceramic cores for extreme longevity to ensure a long-lasting experience. The live resin concentrate within is sourced from the most unique strains and manufacturing is limited to small specialized batches. They contain No VG, PG, PEG, Vitamin E, MCT, or any other thinning agents, and are available in D8, THC-P, HCC, and THC-O.

Inheal Brands' newest hot product to hit the shelves are their one-of-a-kind Meltz Gummies. This grab and go product is packaged with 50 mg Gummies in a mylar bag. Meltz were designed with a low price point to target convenience customers who want maximum potency, while maintaining compliance consequently it can be sold nationwide. Meltz pushes the boundaries of flavor and potency with a variety of delicious flavors to choose from such as: rainbow unicorn, sour extreme, wild cola, and more!

Another one of Inheal Brand's best-sellers is their hand-rolled 2.5 gram D8 blunt. This premium smokable expertly blends CBD and Delta 8 for a calming yet invigorating experience. Everything from the color, to the feel of the blunt in the hand reflects an ancient tradition built on community and is intended to be consumed among friends. The blunt's bamboo filter is environmentally friendly and is reminiscent of a high-end cigar, made available in strains such as: Space Candy, Bubba Kush, Special Sauce, and more.

Tim and Naz have taken great measures to support retailers, such as offering 24/7 access to sales support from product experts, and displaying a store locator on their website to send more customers to the stores. They also share marketing materials such as posters and educational materials on counter mats. In addition, they offer shelf testing programs to find the best sellers for each individual location. You can check out Inheal Brands' product lines in person at Kushcon this August in Tampa, FL. For more information about Inheal Brands, you can visit their website at inheal.com. To claim your free display box kit ($250 value) to test in-store, you can contact sales@inheal.com.