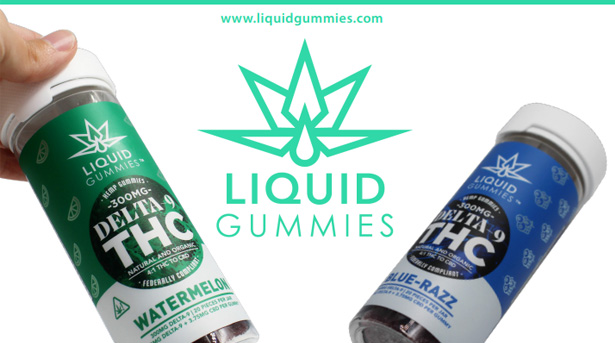 Liquid Gummies
Grant McCabe changed the game yet again, owning two hyper-successful brick-and-mortar stores in New York, as well as founding multiple successful brands. McCabe's two stores consist of a trend-setting smoke and vape shop, as well as an organic CBD and hemp business. We had a chance to sit down with McCabe again and discuss the improvements he has made since we last wrote about his business, The Leaf NY, back in 2020. In the wake of legislative changes to the hemp, vaping, and Delta-8 industry, McCabe set out to find a more viable way to offer THC to the public.

That's when Liquid Gummies was born. Liquid Gummies is one of the first companies to offer fully federally compliant hemp-derived Delta-9 THC edibles. Each edible contains 15mg of Delta-9 THC and 3.75mg of CBD, federally compliant by weight under the .3% limit. Liquid Gummies is also set to release a 25mg Nano Delta-9 THC drink, and strain-specific terpene-infused Sativa edibles. Being federally compliant means this product can be shipped nationally. You can buy Liquid Gummies online as well as in retail stores. They also are produced in a licensed CGMP hemp facility. Now customers who are seeking edibles can have them shipped directly to their door. All for about half the price of a dispensary.
McCabe states, "stores and distribution companies don't build brands, brands do." He has proven time and time again he's separate from the rest of the market. He believes in using tactics to educate the consumer directly to drive traffic to stores, looking for that specific brand.
Liquid Gummies works with social media influencers and focuses on education through popular platforms. They also work with mass media outlets to run radio, digital, and print marketing campaigns.

McCabe also plans to open satellite stores in the future, where other entrepreneurs can own a Liquid Gummies store.

"I feel the vape industry began to decline due to selling through convenience stores. Making it accessible to minors since it is not placed in age-restricted stores," McCabe states. He is opting not to sell THC products to those types of businesses due to the repeat offensives of being caught selling to minors. He is choosing to only sell to age-restricted locations. Plus, online buyers will have to verify their age by using an age checker application integrated into their website.

Liquid Gummies launched for retail and wholesale customers in November 2021. You can learn more by visiting their website: www.liquidgummies.com