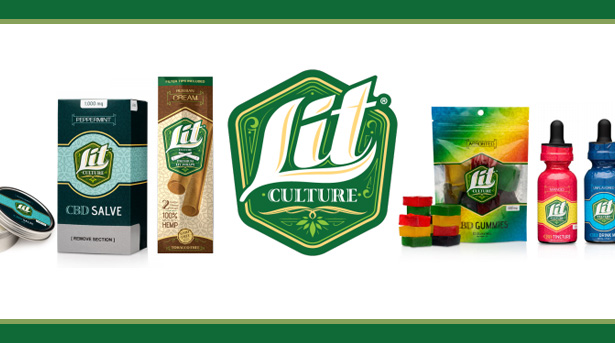 Lit Culture
Ron Pugh launched Lit Culture in January 2018 as a full-on lifestyle brand aimed at unifying and representing counter-culture bringing innovative products like their flagship Lit Culture premium organic hemp wraps and artfully designed Lit gear to the market.

The brand has since become revered for their ability to provide nononsense value based on intensive research, with innovative products that are creatively marketed to consumers in a trelatable and authentic way. Lit Culture has had great success with their hemp wraps that are made available in a variety of flavors; Original, Sweet Georgia Peach, and Paradise Express. In response to customer feedback, which is taken seriously at Lit Culture, they added two new flavors to the mix; Miami Mango, and Russian Cream.

Ron Pugh is a unique person in the industry, with 10 years of experience in working as a consultant for a variety of companies in the counter-culture industry. His expertise has been lent to launch various products in the space, such as Drip e-liquid and kratom. Ron's background as an insider to the industry with expert market research, combined with understanding the process of manufacturing high quality products behind the scenes, has given him the ability to proficiently align brand images to capture the intended market. Based on his trust-worthy and respected reputation within the industry, he established Pugh Marketing Group LLC for his consulting services with the intention to constantly continue working with many brands as an advisor.

Lit Culture's continuous innovation in the counter culture space has brought the market a whole line of brand new products; Check out their new full-spectrum CBD Line, which offers tinctures (in flavors: pineapple, natural, and mango), gummies, pain salve, pet food additives, and a flavorless drink mix. The CBD tinctures come in 6ct boxes with a Lit Culture Display, and the gummies come in 10ct bags (Every bag contains 10 gummies, with 50mg of CBD in each gummy). The packaging of the CBD line emulates the same urban lifestyle branding as their flagship Lit Culture premium organic hemp wraps, that has proven to attract the consumers' attention time and time again. This new line is distributed exclusively by Free River Distribution, and manufactured by Lit Culture.

Free River Distribution is no stranger to other trending products on the market, such as kratom. In fact, they are behind three successful kratom brands; Essential Organiks Kratom (EOK) (known as an economic premium line for the c-store market), Super Natural, and Medicine Man (known as an Ultra-Premium lines for the smoke-shop market). In an effort to provide their customers with more top-tier products, combined with outstanding customer service and expert product knowledge, Lit Culture is currently developing their very own exclusive extra-strength, flavored kratom tincture. Expect to see the launch for the Lit Culture kratom tincture in Q3 this year!

The team at Lit Culture are highly anticipating the return of inperson trade shows, ramping up sponsorships and promotions, and hosting concerts to celebrate the return of crowd gatherings in the near future! In the meantime, they will be working diligently to expand their online presence through various approaches. For more information about Lit Culture, visit their website at litculture. com or contact Ron at 415-361-5128 or r.pugh@litculture.com to get the best introductory specials on their brand new CBD line!
"Customer service is one of our cornerstones, and we strive to bring the best to our customers on a consistent basis. As a part of that initiative, we welcome everyone to reach out to let us know what we can do to continually improve. Feel free to drop us a line via email or through our social media channels."