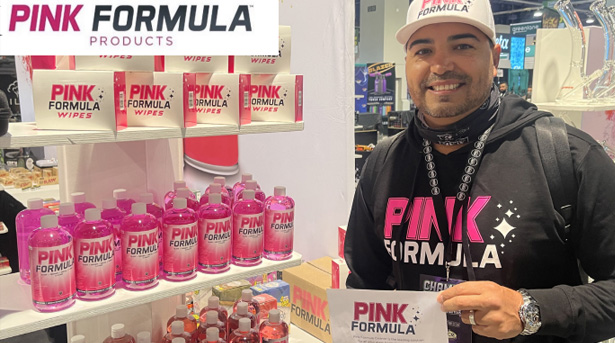 Pink Formula
Meet Alberto Rodriguez - AKA - "Arod", Founder of the hottest new glass cleaner on the market, Pink Formula!

Pink Formula is a unique cleaner that gets glass pipes and bongs practically brand new again, while eliminating bacteria and virus growth with the use of a proprietary formula. Pink Formula was established in September 2020 in Phoenix, AZ to provide a Pink solution to a cloudy problem- dirty pieces that just won't clean. Gone are the days of stuck-on gunk, nasty crud, and smelly glass that totally ruin the highly sought-out elevated experience of a clean, smooth smoke.

Arod, now known as Mr. Pink, developed the Pink Formula with the help of a reputable chemist with a background in the sanitizer industry. Together, they produced a formula that's effective, and stands out amongst the competition with a special ingredient that's often revered for both its level of quality and beauty; Pink Himalayan Salt. Pink Formula combines this with several other effective chemical compounds to provide an exceptional glass cleaner that's powerful with fantastic shelf appeal that demands the customer's attention at first sight. Before he became Mr. Pink, Arod hailed from a background of working in Sales Consulting, starting his own agency, Arod27 Consulting in 2018. He passionately helped a variety of brands build their sales and distribution channels until early 2020, when he found himself working with a CBD client, launching Arod into a position to learn about the cannabis industry. After helping the CBD brand expand into many distribution channels and smoke shops, he realized the cannabis market was the ideal place to position his next big venture. After a few test runs on high end pieces with resin build up, Pink Formula proved to be the perfect solution to bring the glass back to brand new. To launch the brand all over the US, Pink Formula has partnered with industry leading master distributor, Toobs Distribution. Within this first year of the partnership, Toobs Distribution helped Pink Formula launch across state lines and into over 750 smoke shops.
"At Toobs we receive thousands of emails from people bringing their products to the market, when we saw Pink Formula we knew we had to work out a deal immediately. Pink's packaging and attention to detail was on point from day one, plus the product works extremely well! Toobs has been responsible for opening up 750+ locations for Pink Formula, and we couldn't be happier with our business relationship! Albert always does what he needs to do to make his brand competitive within our market, our team at Toobs really appreciates his hard work and dedication to Pink Formula." - Kyle Cooper, Co-Owner - Toobs Distribution
Pink Formula Cleaner is the leading solution for all glass bong cleaning needs. Pink Formula provides fast, effective, and immediate results! This original, easy to use formula is perfect for dab rigs, all glass, metals, and even hookahs. This reusable shaking solution cleans and brightens glass, requires no soaking, scrubbing, or waiting, and guarantees no after taste or smell.

Pink Formula + is fast and effective for the dirtiest of glass pieces! After research and numerous requests for an abrasive cleaner, Pink Formula + was created. This new multi-use formula is made with the same amazing solution, but with an added abrasive Pink Himalayan sea salt for that extra kick, to clean even the dirtiest of glass pieces! Plus, Pink Formula + has a bubble gum scent to get rid of that stink.

Pink Formula Wipes are a multi-purpose cleaning wipe for every type of smoker! These wipes were designed to be extra-large, thick, and have the perfect alcohol formula to guarantee a quality product! These are by far the highest quality wipes on the market, ideal for cleaning sticky concentrate surfaces and accessories, Dab Tools, Carb Caps, Bangers, Banger and Rig Joints, and for cleaning mouthpieces. Pink Formula Wipes are perfect to wipe out the resin in bowl slides and spoons bowls. A pack of Pink Formula Wipes comes with 100 extra-thick, tear resistant wipes, sized at 4" x 2.5" a wipe, with a 70% Isopropyl Alcohol formula. Retailers can grab a box of Pink Formula Wipes with 100 wipes inside.
"Here at Pink Formula, I'm committed to quality and providing the best cleaning solution to my customers. Cannabis consumers invest a lot of money on their pieces and all these products help them retain quality and enjoyment. Like I tell all my customers, use the pink before you get the stink!" –Arod A.K.A Mr. Pink, Founder of Pink Formula
With Pink Formula, what you see is what you get! This product's great shelf appeal is only matched by its quality and effectiveness. Repeat orders have been rolling in thanks to Pink Formula's great shelf appeal, because, not only does the product work great, it looks great! The 16oz bottle pops out on the shelves and brings the customer's pieces back to new, which keeps them coming back for more. Pink Formula's branding concept has taken off and makes it stand out as a market differentiator.
"Pink Formula is easy to sell! It stands out amongst the other cleaners out there and the product line cleans great, is easy to identify and keeps growing!" - James S. – Happy Customer & PHX Shop Owner
The team at Pink Formula love working closely with their customers, and have invested the time to build relationships with their customers, shop owners and distributors, taking great value in their feedback. To support the retailers, they provide Pink Formula banners, stickers, flyers, posters and swag. If a store owner asks for something that will help move the products, they are happy to accommodate! They understand that building relationships is essential and always strive to be just one call or email away for anyone that needs to get in contact. Pink Formula is well on their way to meet their goal of reaching all 50 States and being on the shelves of 2000+ smoke shops by the end of this year. The brand continues to add products based on industry needs and is excited to launch more this upcoming year.

Upon celebrating the brand's one year anniversary in September 2021, Pink Formula was already in over 35 states and Canada. Going into their second year, they are on pace to double sales from last year, and get into every state in the US. If you don't have Pink Formula on your shelves, you're missing out on a great sales opportunity! The brand is quickly growing with social media marketing that will drive customers to local smoke shops looking for Pink Formula. This product will stand out not only to the eye, but will delight customers at first use with it's effectiveness and ease. One use and they will be back for more! Meet Mr. Pink yourself and see the Pink Formula in action at Champs Trade Show in Chicago this June! For more information, visit their website at www.pink-formula.com.