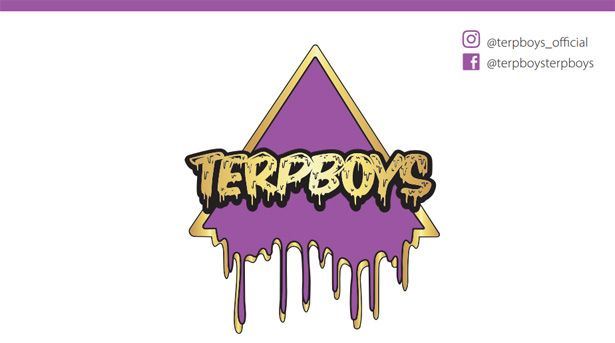 Terpboys
The hot, new brand has just hit the market, backed by product experts within the alternative cannabinoid industry: TERPBOYS.

Chad Weiner, Founder of Terpboys, has been a part of the industry for the past 5 years, manufacturing a variety of white label products on behalf of many successful brands that are on the market today. This year, Chad decided to branch out and launch his very own brand of high quality cannabinoid products to serve the industry. He has hand-selected the most premium quality Delta-8 and HHC products available, then packaged them according to his insider knowledge of branding within the space to create the ultimate brand for the industry. The Terpboys' warehouse, located in Huntington Valley, PA, is now packed with their brand-new line of products and ready to serve retailers across the country.

Terpboys came out with a bang and launched their first offering for retailers this January. They have already become known for their Delta-8 and HHC Disposable Vapes. In fact, at the Alt Pro Expo in Fort Lauderdale (where the brand was first introduced), Terpboys won an award for the "Best Vape" among their competitors. Chad affirms, "To be such a new brand and already having received an award, really speaks volumes about the quality and foreseeable longevity of our products."

Terpboys was created with outside of the box thinking, with uniqueness at the forefront of the brand's identity. Their focus on high quality products as a company mission is exemplified by their raving consumer reviews. Terpboys is aptly named because a big part of their product focus is based on their expert usage of terpenes in their formulations. They only use the highest quality terpenes available, not just for the flavor, but for the effects as well. The Delta-8 Disposable Vapes are available in Hybrid, Indica, and Sativa varieties which are packed with roughly 900mg of Delta-8 THC per vape. They have an assortment of mouth-watering flavors such as: Strawberry Milkshake, Grape Soda, Upside Down Pineapple, Peach Rings and more. The HHC Disposable Vapes are available in all the same great flavors as the Delta-8 Vapes

Their Delta-8 Gummies have six delicious flavors such as: Blue Raspberry, Grape, Watermelon, Mango, Passion Fruit, and Lime that come in an assorted pack, with each bag containing 250mg of Delta-8 (25mg per cube). Last but most definitely not least, Terpboys is delighted to present their Delta-8 Chocolates, which come in Milk and Dark varieties. These chocolates are packed with 500mg of Delta-8 THC, (50mg per piece) and boast a smooth and robust cocoa flavor that's even better tasting than the most popular chocolate brands out there.

With a clear company mission to offer the very best products possible, Terpboys ensure the quality they promise by obtaining their own third-party lab tests of all the products. You will notice that their COA's are in their own name, because they go direct to the labs for the results. They are looking forward to developing and launching new products as the industry progresses, with plans to add new cannabinoids into their line, such as: THC-O, D-10, HHC-P, and THC-P. The Terpboys branding was intentionally designed to represent their expert use of terpenes in their product, while the packaging incorporates bright colors and their own unique logo to create an eyecatching style that will turn the heads of consumers when they spot the products on a shelf.

Take advantage of the BOGO Intro Special that Terpboys offer to new customers, where every box ordered, comes with a second box for free! They support retailers with catalogs containing information about the products to help answer any questions consumers may have and include stickers with every order, which are great to give out to customers. You can submit an application to join the Terpboys wholesale partnership program on their website. There will be an opportunity to meet the Terpboys team at Champs Trade Show in Atlantic City this May. For more information, visit their website at terpboysllc.com or give them a call at (267) 864-8282.