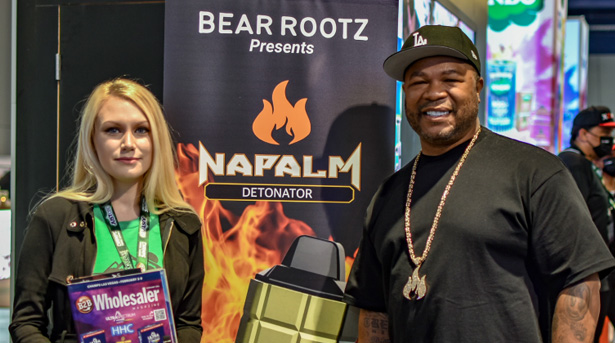 X-Vape/The Napalm Detonator
XVAPE X XZIBIT: THE NAPALM DETONATOR
Napalm Brands was founded in 2020 and takes a groundbreaking approach through the development of industry- disrupting products. In a short time, they have become one of the fastest-growing brands in cannabis with plans to continuously add to their line of innovative products. Continuing their legacy and promise to always "bring the fire", Napalm Brands teamed up with Bear Rootz and industry leader XVAPE to introduce their latest cutting-edge product to the market: The Napalm Detonator.

The Napalm Detonator brings XZibit's musical artistry style and XVAPE's advanced technology together in a vape device that offers users the flexibility to switch between flower and concentrates at their whim. The Detonator is a dual-use 2600 MAH vaporizer made for the cannabis enthusiast that comes with a unique grenade sleeve, and is housed in a grenadeshaped impact resistant case. The case holds the full kit, which contains everything necessary, including the device, a one-of-akind dab tool, a cleaning kit, and interchangeable mouthpieces that are designed especially for each consumption method. The Detonator has full digital control by degree OLED screen, with temperature ranges from 212 to 464 degrees (Fahrenheit), and the battery inside is rechargeable by micro USB. Complete with a full ceramic conduction oven chamber for optimal heat contact, XVAPE pulled out all the stops to power The Detonator at max capacity for Napalm Brands.

Napalm Brands was heavily inspired by XZibit's seventh studio album, Napalm. The album debuted on the Billboard 200 when it dropped in 2012. With the intent to establish a fire brand within the cannabis community, XZibit naturally chose to pay homage to this successful album and create a fitting extension with Napalm Brands. He enjoyed being involved in developing the brand and products from start to finish. Napalm Brands' THC line has been featured in dispensaries across California for the past two years, and are expanding into 3 more states. The global rollout of this device was designed to ensure each facet of the brand complements and supports the other seamlessly.

To offer the industry a completely new product that would stand out from the crowd, Napalm Brands chose to collaborate with XVAPE to manufacture the perfect product for their global audience. The Detonator was developed with quality and value in mind. The technology that goes into this type of product usually comes at a high price tag, but The Detonator retails at $129, which is a significantly lower price point than other similar products on the market right now. This was an intentional decision in order to make The Detonator an accessible product for all kinds of consumers in the cannabis community, without compromising on the top quality that XVAPE is known for.
"Napalm Brands isn't just a line of products, it's an attitude, and a lifestyle that defines the audience that resonates with my music." –XZibit
With the Napalm Detonator launch on April 1st, just in time for 4/20, fans can celebrate the cannabis holiday with XZibit and the Napalm Detonator. Retailers are supported by Napalm Brands' influential social media promotion strategy and direct to consumer marketing plan with global reach being the main goal. For more information, visit their website at xvapeusa.com, napalmbrands.com and bearrootz.com
"Napalm brands, XVape, and Bear Rootz came together to create a device that's for everyone, and this is the first of many to come. We greatly appreciate the community's support for the Napalm Detonator!" –XZibit
Instagram: @xzibit @xvape_vaporizer @napalmbrands @bearrootzdesigns
Facebook: @xzibit @xvape_vaporizer @napalmbrands @bearrootzbrand