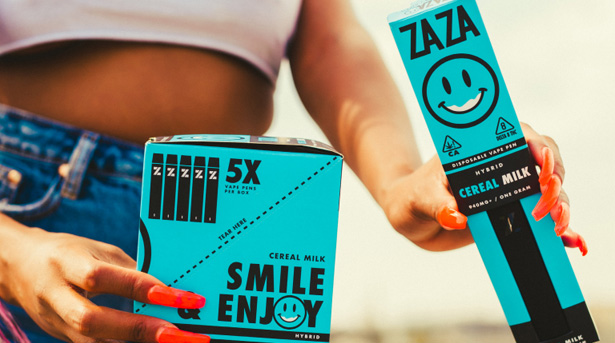 Zaza THC
In an industry of THC brands popping up left and right, often seeming to blend together in a sea of copies upon copies, Joey, founder and owner of Zaza THC in Los Angeles, set out to establish a brand that would stand out from the crowd as an original. After working in the counter-culture industry for the past 5 years helping to establish other people's brands, Joey decided it was time to branch out and create a brand that would be all his own. From his experience, Joey realized that many brands in the industry don't take the time and effort to create their own genuine brand that isn't knocking off the ideas of someone else. He established Zaza in June 2021 to change the game with a fresh brand that highlights originality at its finest with a premium product to back it up.

Zaza launched their first line of 1 Gram Zbar D8 disposables to kick off the Zaza brand. The company spent a lot of time and money to ensure authenticity, creativity, and quality with their rechargeable disposable cartridges, that all come with a 'Z' inscribed in the disposable. This not only represents the brand with class, but also prevents copycats from trying to sell counterfeit versions of Zaza products and maintains the brand's integrity. Each disposable cartridge is filled with premium Delta-8 distillate, that's responsibly sourced, and organic terpenes that create Zaza's proprietary flavor profiles. All products come shipped in 5 pack displays, and are available in 9 popular flavors such as: OG Kush, Purple Punch, Cereal Milk, AK-47, and Super Jack. To ensure the highest quality, safety, and transparency, all Zaza disposable cartridges have third-party lab tests displayed publicly on their website.

The Zaza slogan is "Smile and Enjoy", because the brand's overall focus is to bring joy to their customers. This ideal is emphasized by their branding and packaging, with the Zaza smiley face logo, and the packaging's bright colors with bold fonts. Zaza was created to encourage customers to be happy, smile, and to see life from a positive perspective. In addition, the brand's social mediapresence represents a lifestyle that inspires originality, and promotes diversity. The company supports retail sales by providing a variety of marketing materials such as: window decals, table tents, t-shirts, and flavor profile cards.
Joey, Founder of Zaza, feels great responsibility as the owner of a THC brand in an industry that is legal, yet hasn't always been the case. "As a convicted felon and veteran of the 'war on drugs', I am committed to shedding light on the issue and supporting causes that are working toward freeing those in jail from victimless drug crimes. Part of my mission with Zaza is to give back and support organizations like The Last Prisoner Project to help heal the lives of those who have been hurt from imprisonment over cannabis crimes." – Joey, Founder & Owner of Zaza THC
Zaza is a brand that is proud to be an original, but also takes a lot of pride in being honest with their customers, and maintaining strong relationships with them. Being a quality brand, they rarely have defective devices, but will always make it right with the customers in the case that there is ever an issue. The company is thrilled to announce the launch of their brand new line of Delta-10 full gram disposables, which will be made available in 6 delicious flavors! They are also working on more upcoming product lines, such as Delta-8 gummies, and 2 gram disposables. Check them out for yourself at upcoming trade shows this year, such as the Alt Pro Expo in Fort Lauderdale in March and in Chicago in November. For more information, fill out their wholesale form online at their website: zazathc.com